The 30 Best Job Hunting Tips We've Ever Heard
•
COMMENTS

(0)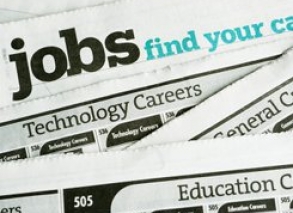 Skip to the bottom for an index of all our job-hunting tips to date.
Happy Graduation, Gradspotters!
While it might be intimidating to be graduating in today's economy, look on the bright side: you could have been graduating in '09! In fact, it's not all doom and gloom anyone. Hiring freezes are beginning to thaw out, and believe it or not, there are industries out there that are actually booming. It's time to buckle down, and we know you're up for the challenge. More so than ever, it's essential to put your best foot forward on the job-hunt and do everything you can (within the law, of course) to stand out from the pack.
Why not start by checking in with us for one job tip a day over the next 30 days. From customizing your resume to networking online and dressing for interview success, we'll break down the process into four essential parts: Figuring Out What You Want to Do, Preparing for the Hunt, Networking, and Finding Jobs/Interviewing.
By staying on top of the 30 in 30 series and implementing each tip over the course of the month, you will set a great foundation for a coup de employment! Good luck.
Want to share your own tips with the Gradspot community? Email 30in30 [at] gradspot [dot] com with your tip, your occupation/industry of interest, and your name as you'd like it to appear on the site. Or just add your comments to any of our tips along the way.
The Road to 30: Job-Hunting Tips to Date
#3: Read the News to Find Your Passion
#5: Earn Some Cash in the Meantime
#6: Which Industries Are Doing Well?
#9: Change Your Voicemail Recording
#10: Clean Up Your Online Profile
#11: The Cover Letter Conundrum
#12: Try Online Career Networking
#13: Start a Networking Spreadsheet
#14: Twitter Your Way to a New Job
#15: The Friends and Family Plan
#16: Tell a Story
#18: Who Is Your Professional Hero?
#19: Set Up an Informational Interview
#20: Send Thank You Notes
#21: Beyond Monster and Craigslist
#22: How to Email Job Applications
#23: Interview Prep Work
#25: Nail Your Phone Interview
#26: Send a Follow-Up
#27: Have a Life
#28: "What's Your Greatest Weakness?"
#29: This Is Just the Beginning of Your Career
#30: Loose Ends