30 in 30: Loose Ends
COMMENTS

(0)

FILED UNDER: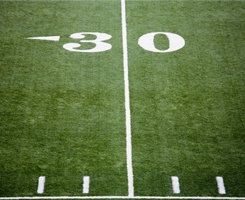 Alas, we've come to the end of the road. With 29 tips down, this is the last day of Gradspot's job-hunting bonanza. We hope you've been able to super-charge your own job-hunt, and we wish you the best of luck going forward. If you did the impossible and landed a job already, have some celebratory nachos and send us the receipt.
Before we put this baby to rest, we wanted to thank all the bloggers who shared the series and all the experts who shared their knowledge. And to take us to the finish line, here are a few final tips from our friends around the Web.
I think the greatest tip I've gotten is to let everyone know that you are looking for a job. Many people are embarrassed and keep it a secret, but letting friends, family members, and coworkers know you are searching will open doors to a wealth of jobs you would not have known about.
If you are out of work, send your resume and cover letter today to 10 people you know. They can pass it on to people they know, who will pass it on to people they know and pretty soon you will be put in contact with someone that is hiring or knows someone that is hiring. This is how I have found jobs and interviews, and I cannot stress it enough in this current economy. I mentioned I was job searching at a recent family dinner, and within 5 days they had put me in contact with someone they know that was hiring. In these difficult economic times, everyone of all ages and skill levels is in the same boat, and more willing than ever to help.
1. Make sure everyone you know knows that you are looking for a job.
2. Buy a spiral notebook and use it to keep track of everyone you talk
to about jobs, every job you apply to, and every interview
3. Set goals that are based on efforts (things you can control, such
as number of resumes sent out, number of websites visited, number of
calls made) rather than results (things you can't control, such as number of interviews or job offers).
4. If you are pursuing a strategy for awhile and not getting to the
next step in your search (either interviews or job offers), start
exploring new strategies. Only the foolish continue to use the same
strategies but expect different results.
5. Develop a long-term plan for your job search, including a list of
strategies that you will employ in an ordered fashion.
When you are preparing your resume there are many items that you need to be aware of including style, arrangement of information, how far back in time to go on extracurricular activities and awards, etc. This entry, however, only deals with the language that you should be using in your resume to describe your work history. For efficiency's sake, you may want to have your resume next to you while you're reading through this quick guide.
Example #1: Spent time reviewing applicants and deciding whether or not they would fit in with the company's mission statement
In this example, someone is seeking a job in human resources and is describing one of her regular tasks at her previous company. However, remember that your potential employer does not read your resume to read a description of your previous job. Instead, they want to know about how effective you were at your previous job.
Resolution #1: Hired 14 staff members over a 5 year period including 3 executive level positions; managed an average of 4 employee complaints per month; designed and successfully implemented an annual department review program
The resolution tells a little bit more about what you actually did while in that position.
Example #2: Managed a loan portfolio and analyzed potential new borrowers for the company's various loan products
Blech! All this tells the reviewer is that you went to work each day and did your job. How exciting?! Talk about what you managed at work and describe your analyzing.
Resolution #2: Manage a $60 million loan portfolio including $30 million in residential mortgages, $20 million in federal grants, and $10 million in commercial real estate; analyzed new business opportunities through cash flow statement and audited financial reviews and background credit checks on applicants
This resolution gives specifics and tells the reviewer much more about your daily work load.
Quick, pertinent details are what you're looking for in your resume. Keep it simple, but make it count!
Looking for a job in the new year? Be sure to check out all the essential job-hunting tips from Gradspot's new series, 30 in 30: The Insider's Guide to Job-Hunting in '09.