Purchasing Car Insurance
•
COMMENTS

(0)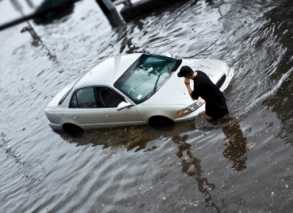 Quick Tips
You need insurance – Some level of car insurance is required by almost every state, and even if it's not, there's no excuse not to get it.

Suggested options – At the very least, you should seriously consider liability, collision, and comprehensive. In addition, check out others like medical, uninsured, and pip.

Calculating cost – The average total annual premium for a policy that includes liability, collision, and comprehensive costs $775 (changes depending upon criteria). However, this is a lot cheaper than not being covered and paying for someone's "back injury." Check an online comparison engine such as esurance to get the best prices.
Check the company's rating - Don't simply consider price when choosing a company; make sure it's financially strong and will be able to pay claims by looking at their company rating.

Avoid double coverage – Before selecting the options for your car insurance policy, review all other insurance you've purchases (e.g., medical) to make sure you aren't already covered in some areas.
So easy a caveman can do it but more confusing for college grads than the lyrics to "My Humps," auto insurance is required by law in almost every state, so dealing with it is less an option than an obligation. There are two main aspects of car insurance—protecting your car and protecting yourself
. Whether your car gets jacked from the car lot or you get into an accident that dents both your fender and your forehead, you are going to be glad you're covered. Indeed, driving without insurance is one of the least intelligent things you can do—if you get caught (or worse still, you get hurt), you may incur heavy fines and bills, lose your license, or even go to jail. So, put that college-educated brain to use and do some research to find a policy that works best for you.
Bare Bone Basics
Before picking up the phone for a "15 minute" call to Geico, take some time to familiarize yourself with the different types of coverage. You can customize plans to cover whatever you want, but it's always advisable to start with collision and comprehensive coverage as it's pretty hard to replace a car if it gets totaled or stolen.
Liability – Required by 47 states, liability covers accidental bodily injury and property damages caused by an accident (e.g., the woman in the other car's broken butt bone and the neighbor's flattened fence).
Collision – Not mandatory (but purchased by most), collision pays for any repairs to your car in an accident, from a bruised bumper to a busted trunk. It does not pay for damage to the other person's car.
Comprehensive – Also optional but popular (like parmesan cheese or pants), comprehensive pays for losses that are not the result of a collision, such as fire or theft.
Medical – Pays all medical expenses of those in the car regardless of fault.
Emergency Roadside Service – Covers situations like fixing a flat, getting keys out of a locked car, running out of gas, or using a tow truck. Some will even pay a bond if you get sent to the big house for a traffic violation.
Gap Insurance – As soon as a car is driven off the lot, its market value depreciates 20-30%. In the case of an accident or theft, gap insurance pays the difference between what you owe (the actual market price) and what the insurance company says the car is worth. (For example, if a $25,000 car is totaled and you have collision but no gap insurance, the insurance company will pay $20,000 rather than the full $25,000 that you paid for it.) It is generally offered only on new cars.
Personal Injury Protection (PIP) – Being a PIMP is illegal in all states except Nevada, but having PIP is required by some. It covers medical expenses and lost wages for insured drivers regardless of fault.
Uninsured Motorists – Pays car damage when an accident is caused by someone without liability insurance.
Rental Reimbursement – Dinero for a rental if the wheels on the car can't go 'round and 'round.
Before perusing prices, check any other insurance policies that you hold (health insurance, renter's insurance, etc.); you may already be covered for certain aspects of a car insurance policy. For example, a person with comprehensive health insurance would probably only need to purchase the minimum personal injury protection (PIP) coverage.
The Price Is Right…Or Maybe Not
The average policy containing liability, collision, and comprehensive coverage costs $774.12/year. However, that figure is dependent on a number of things:
Type of Car – Sports cars, large SUVs, and really small cars like the Mini Cooper may be cooler than Kriss Kross in the early 90's, but the increase in premiums isn't something to "Jump Jump" up and down about.
Car Features – Anti-theft devices, airbags, anti-lock brakes, and automatic seatbelts warrant automatic price reduction.
Theft History – Models with bad reps get bad rates. Check out theft history to get an idea of how a car will fare on the street. (According to the National Insurance Crime Bureau, the "most stolen cars" in 2006 were the '95 Honda Civic, the '91 Honda Accord, and the '89 Toyota Camry.)
Location – Areas with high accident rates or incidents of larceny raise prices.
You – Not all drivers are treated the same. For example, young single males can expect to get screwed just by being young, single, and male. At least you can't get pregnant!
How Often You Drive – Long commute? Price increase is absolute.
Credit Report – If you missed your last two card payments due to a drunken visit to the L.L. Bean website, it could increase your premium by the hundreds.
Driving Record – Clean licenses warrant lower premiums.
Discounts – Most companies offer sizable student discounts to those who maintain certain grades. You can also save if we have multiple cars insured (unlikely) or if you hold a renter's insurance policy with the same company. Check out these clever ways to reduce premium cost.
Deductible – A deductible is the amount paid out-of-pocket before the insurance company kicks in cash. A higher deductible will mean a lower premium price, but it also means that you must fork over more of your own money in the case of a calamity. Deductibles are usually offered in amounts of $100, $250, $500, or $1,000. To figure out the best amount to choose, try this deductible calculator.
Prepare for Liftoff
The first step in the search for auto insurance is learning the state's minimum requirements. Since safe is better than sorry, most people go beyond the auto insurance minimum to ensure coverage for a variety of problems. Getting quotes online is a quick and easy way to make comparisons without the pressure of an agent. Have on hand your driver's license number; the year, make, and model of vehicle; and the vehicle identification number (VIN), which is a code consisting of seventeen letters and numbers that can be found on a previous insurance card, the registration, the VIN plate on the driver's side dashboard and the certificate label on the driver's door jamb. Use a quotes search engine to evaluate multiple companies at once. Compare coverage to About.com's recommended sample below:
Bodily Injury Liability: $300,000 per occurrence
Property Damage Liability: $100,000 per occurrence
Medical Payments: $10,000 per person
Uninsured Motorist Bodily Injury: $300,000 per accident
Uninsured Motorist Property Damage: $10,000 per accident
Collision Deductible: $500
Comprehensive Deductible: $0-100
Insurance lingo to a recent grad can be like Ebonics to your grandmother, so you may want someone who can answer questions and walk you through the process. If this is the case, consider getting off the 'net and into an insurance agent's office (locate agents in your area by going to company websites or using Automotive.com's "Agent Locator"). Before you go in, make sure the company is financially strong and will be able to pay claims by looking at its company rating; then, review this glossary so you don't get smooth-talked into a bad decision.
When you finally make a decision, don't get off the phone or leave the agency without knowing exactly what you're getting (i.e., how much are you paying, what is your deductible, and where are you covered). Also, find out the timeframe to review the policy (usually 10-30 days) before you can cancel and get a refund. Finally, familiarize yourself with the correct protocol should anything go wrong. How you handle the scene of an accident can make a huge difference in whether or not your claim is accepted.
Should I Stay or Should I Go?
Already have a policy? There may be compelling reasons for you to think about switching...or not. Check out these considerations:
Still on mom and dad's policy? Contemplating going onto an independent plan? Keep in mind that if the car is in a parent's name, it must go on their policy. Going off the plan would require putting the wheels in your own name. It's probably best to stay on a parent's plan if they receive a multi-car or multi-policy discount, especially if you are only using the car for weekend trips to the Hamptons or sporadic visits to frat buddies in other cities.
Since it's more expensive to insure a fast-and-furious-influenced 16-year old than a law-and-order-abiding 21-year old, make sure previous plans have been readjusted to reflect the temperance of a few years.
Even if you've been on your own plan for a while, there still may be reasons to switch. If a new employer offers a group discount, it may be a good idea to explore a new plan. If you've moved, rates will change, so make sure to check how old or new plans are affected. But if the move does raise the price, don't try to pretend that you still live in the old locale – insurance companies can deny payment on claims if the insured person is lying about where they live.
Premium prices between companies fluctuate yearly. If a large number of people in a given group (age, type of vehicle, number of accidents) files claims in a given year, everyone's rates rise, and you may be able to find lower overall premiums or discounts elsewhere. Always comparison shop to see if you can save some scratch by switching it up.