Preparing Easy Meals that Impress
•
COMMENTS

(0)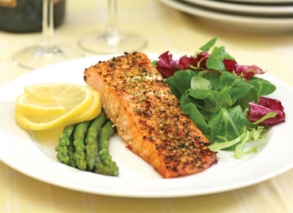 Few things are better at catalyzing sexy time than a home-cooked meal—drinks abound without having to wait for a waiter, lights can be dimmed in advance, and there aren't any awkward discussions about coming over for a nightcap (though I still love to say nightcap)
. Perhaps best of all, it's way cheaper than a restaurant (like often a hundred bucks cheaper). There's only one problem: you don't know how to cook. Well, you should never let ignorance stop you. Each of these cheap and easy recipes will make you look like a master chef without having to be all snobby and pretentious. They'll each leave you plenty of time and money left over to hit up the sex shop for weirdly flavored condoms. And this time, you might even find occasion to use them.
Cooking Notes
All recipes serve two. For more people, merely multiply the ingredients by the number of guests. All processes have been simplified as much as possible to work in sparely equipped kitchens. However, there are always multiple ways to skin a cat and still get the same, well, skinless cat. Anyway, if the recipe calls for you to blanch and you want to steam, steam. If you want more of one ingredient, then use it. These recipes are all relatively foolproof and do not depend on specific measurements. All recipes take between 30 minutes to an hour from start to finish.
---
Baked Salmon Fillet with Tarragon Mayonnaise, Polenta, and Asparagus
This recipe couldn't be easier, and it provides a delicious meal with vegetable, starch, and protein in no time. The sides are merely interesting and easy suggestions, but it could work just as well with mashed potatoes or any vegetable.
Salmon
2 6-8 ounce (wild or organic) salmon fillet. Can also substitute arctic char
16 sprigs tarragon
2 tablespoon mayonnaise
Polenta
1 chicken bouillon cube
1/2 cup polenta (coarse cornmeal)
2 pats of butter
1/4 cup milk or heavy cream
Asparagus
Steps
Preheat oven/toaster oven to 450 degrees.

Remove tarragon leaves from stalks by holding onto the top of each sprig with one hand and pinching two fingers down the stalk with the other, and place in a bowl.

Whisk the mayonnaise into the tarragon leaves with a fork.

Salt and pepper both sides of the salmon fillet and place on a baking sheet lined with parchment paper (the parchment paper isn't a necessity but it prevents the salmon from sticking).

Spread tarragon mayonnaise on top of the salmon fillets, trying to cover the entire surface.

Place in the oven in the middle rack and bake for 12 minutes (or until opaque in center).

While the salmon is in the oven, boil 3 cups of water in a small pot with the bouillon cube.

Also bring 1 cup of water to a boil in a medium-sized frying pan.

When the salmon is almost done, turn down the heat under the pot of water to low and pour the polenta into the water slowly, whisking fast in order to avoid clumping. Keep whisking the polenta for three minutes or so until it reaches the desired consistency (somewhere between mashed potatoes and soup). Then whisk in the cream or milk and the butter and let sit.

Drop the asparagus in the frying pan and blanch (i.e. toss in boiling water) for 1 minute. Then remove and place on a paper towel or cloth napkin.

Take the baking sheet out of the oven and insert a spatula between the skin of the salmon and the meat without breaking the fillet.

Plate the salmon, the polenta, and the asparagus and season with salt and pepper.
---
Sublime Scrambled Eggs with White Truffle Salad
Scrambled eggs are not just for breakfast. They also make for a fast, flavorful, and insanely easy dinner. The white truffle oil and red wine vinaigrette provide an intense flavor and bite to the salad that goes well with the soothing flavor and texture of the scrambled eggs.
Salad
1 romaine heart
1 handful of mesclun salad mix or arugula
6 radishes
1 Kirby cucumber
1/2 avocado
1 tbl red wine vinegar
1 tbl Dijon mustard
1 tbl white truffle oil
Eggs
5 large eggs
2 tbl cave-aged Gruyere or Comte cheese
1/2 cup milk
1 tbl butter
Steps
Cut stem off of romaine heart and chop widthwise into one inch leaves.

Combine with mesclun or arugula in a large bowl.

Slice radishes and cucumber into very thin slices.

Cut avocado in half and remove pit.

Whisk vinegar and mustard in a small bowl.

Pour oil onto the lettuce mixture, season with salt and pepper, and mix with hands so that all of the leaves are coated.

Add the radishes and the cucumber.

Whisk three eggs in a small bowl and add milk.

Cut gruyere into small thin slices (the smaller they are the better they'll melt).

Melt the butter in a medium sized frying pan on medium to low heat.

When the butter starts to bubble, add eggs and cheese.

Stir slowly until the eggs are clumped but not dry.

Season eggs with salt and pepper and plate.

Pour vinaigrette over salad and plate.
---
Simple Salad Nicoise
Nicoise is the classic gusty French salad. It is intensely colorful, has a brilliant mixture of tastes, and makes a very hearty, healthy meal for any season.
The Dressing
1 tbl red wine vinegar
1 tbl Dijon mustard
2 cloves garlic
The Salad
1 6-8 ounce tuna steak
2 romaine heart
1 handful arugula or mesclun salad mix
1/2 lb green beans (preferably French)
8 very small red, white, or blue potatoes (also sometimes called new potatoes)
3 eggs
3 tbl olive oil
1/2 cup Nicoise olives
Steps
Cut stem off of romaine heart and chop widthwise into one inch leaves.

Combine with mesclun or arugula in a large bowl.

Whisk vinegar with mustard in a small bowl and add the two garlic cloves, cut into quarters.

Fill two small- and one medium-sized pot three quarters full with water with a pinch of salt and place under high heat.

Add the eggs to the small pot.

Once the pot with the eggs starts to boil, turn the heat down to low and cook for 10 minutes.

Once the other small pot begins to boil, carefully drop in the potatoes and cook for 15 minutes or until tender.

Cut the stems off the green beans by arranging them in a bunch with the all of the hard ends facing one way.

When the third pot begins to boil, toss in the green beans and blanch for 2 minutes, then remove beans and place in an ice bath.

When the eggs are finished remove and let sit until they are warm but not hot to the touch.

Roll the eggs back and forth between your two palms gently so that the shell cracks but you don't break the skin of the egg, then remove the shells.

Drain the potatoes and let sit in a colander.

Dry the tuna steak with a paper towel and salt and pepper both sides.

Set a small frying pan over medium-high heat with 1 tbl olive oil.

Sauté the tuna for two minutes or so per side depending on thickness. The tuna should have a brown, somewhat crisp outside but still be very pink on the inside. Err on the side of rare as tuna is perfectly healthy to eat raw and has very little taste when cooked.

Separate/slice the tuna along its grains into inch long strips.x%x

Slice the egg widthwise.

Cut the potatoes into quarters or halves.

Sprinkle the remaining 2 tbl of olive oil over the greens, add salt and pepper and mix with your hands until each leaf is coated, then plate.

Arrange the green beans, Nicoise olives, eggs, and potatoes on the top and around the sides then finish with the tuna slices on top.

Remove the garlic cloves and drizzle the vinaigrette on top of the salad.
---
Pork with Lemongrass and Chili
One of the best Asian dishes ever invented. This one hails from Vietnam, and the recipe was adapted from that of one of the best restaurants in the entire country, The Brother's Café in Hoi An. The spice of the chili is an incredible counterpoint to the soft citrus of the lemongrass. Note that almost any vegetable or meat can substitute for the ones mentioned. Instead of pork I have used chicken, beef, shrimp, and tofu. For the vegetables I have used broccoli (regular, rabe, or broccolini), eggplant, zucchini, and asparagus, all of which can be combined, but be careful not to throw in too many ingredients and thus too many divergent tastes.
Ingredients
1 small pork tenderloin
1/2 pound Cremini mushrooms
1/2 pound snow peas
1 tbl minced ginger
1 tea minced garlic
1 stalk lemongrass
1 or 2 fresh chilies (Red Thai Bird Chilies or Serrano chilies work best)
1 tbl chili paste (optional). If you can't find paste or fresh chilies, you can even substitute dried red chili flakes)
2 tbl vegetable oil
1 cup stock (chicken or pork – can be fresh or bouillon dissolved in water)
1 cup Forbidden Chinese rice or wild rice
Steps
Rinse rice in a colander until the water coming out is relatively colorless.

Combine rice, a pinch of salt, and 2 cups of water (for wild rice use 2 1/2 cups or follow directions on package) in a small pot.

Cover and bring to a boil over high heat.

Once the water starts to boil, reduce heat to low and cook for 15-20 minutes or until the water has evaporated.

Dry tenderloin with paper towel and slice very thin along the width of the loin.

Cut stems off mushrooms and brush with a mushroom brush or a wet toothbrush.

Rinse snow peas.

Cut mushrooms into quarters.

Mince garlic and ginger.

Mince chili with seeds or without (the seeds add considerably to the spice). Be very careful when chopping chilies. Do not rub your eyes and wash your hands and knife after chopping.

Chop an inch from the base of the lemongrass stalk and a few inches from the top. Remove the hard outer shell and mince the fragrant inner flesh.

Turn wok or frying pan on medium-high and add oil.

When oil is hot but not smoking add pork and chili paste.

Cook pork until it is no longer pink on the outside but is not yet cooked all the way through.

Throw in garlic, snow peas, mushrooms, ginger, and chilies.

Turn heat to high and sauté until the vegetables are cooked through, adding stock a quarter of a cup at a time to prevent the vegetables from browning and to create a flavorful sauce.

Plate rice and cover with stir-fry mixture.