Planning a Simple Workout Routine
•
COMMENTS

(2)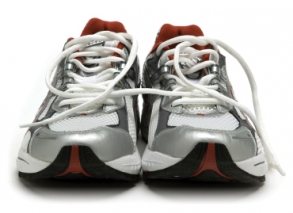 Quick Tips
Set goals – Working out is all about setting a realistic routine. A solid goal should be moderate-intensity workouts 5x a week for at least 30 minutes or intense workouts 3x a week for 20 or more minutes per session. Strength training 2-3x a week will build up muscle mass, increase our metabolism, and improve both your mental and physical health. .

Get motivated – Peeling yourself off the couch is half the battle. Give yourself the requisite kick in the butt by finding a training partner, joining a league, or taking part in a charity sports event.

Stay at home – If you can motivate yourself to exercise but hate leaving the house, there are plenty of free exercise videos available online, and you'd be surprised how far a floor and some dumbbells can get you (just ask people in prison!).

Hit the gym – Save money on the personal trainer by doing a little prep work and teaching yourself some tried-and-true routine and exercise fundamentals. Exercise classes included in the membership benefits of many gyms are a great way to keep the energy levels up.

Switch it up – At the end of the day, mixing and matching the different workouts in this article will add some variety to your workout schedule and make you more inclined to stick with it.
There's a reason we get sucked into watching those shows on cable on the 100 Most Wanted Bodies or the Tightest Thighs on TV or, these days, the Sexiest Sixteen Year-Olds on the Planet. Despite the half-eaten boxes of Milanos in our laps and the chocolate crumbs stuck to the corner of our mouths, we all want
superstar arms, supermodel thighs, and abs of a Greek god. Unfortunately, starting salaries don't always provide the funds necessary to hire a personal trainer and a personal chef who can turn you into a specimen like Roger Federer. But have no fear, my friends. There are ways to avoid the slow burn on your budget and still stay fit. Just follow these simple and easy routines at home or at the gym and soon you'll have your own special on VH1: Best Bodies with the Least Hassle.
Laying a Foundation
First up, what should you aim for? A solid goal should be moderate-intensity workouts 5x a week for at least 30 minutes or intense workouts 3x a week for 20 or more minutes per session. Then, throw in some strength training 2-3x a week to build up muscle mass, increase your metabolism, and improve both your mental and physical health. Check out national standards and governmental recommendations on physical activity.
Getting motivated is another story. One fun approach is find an exercise buddy—if someone else is depending on you to work out, the guilt trip could be the fire that lights your hungover/lazy/sore butt out of bed. Grab a friend, post an ad on Craigslist or a gym's bulletin board, or even find a fitness partner with similar goals at readytosweat.com. Joining a league is another option, and there's always a range of sports and skill levels to choose from. See if your company has any teams, and check out local rags, league websites, and gyms for more information. Finally, if you're not much of a team-oriented athlete, you can join a charity run, walk, or triathlon and raise money for a good cause while getting a sick body to boot. Check out local running and biking clubs for events or try Race for the Cure, Live Strong, or the Jimmy Fund.
Exercise At Home
Sometimes just the thought of going to the gym can make you even more nauseous than the fried calamari and tequila shots from the night before. Most of our generation wants things to be quick, easy, and effective, and what better way to streamline than by working out without ever leaving the comfort of your own home! Whether you pop in a Jane Fonda VHS from your mom's video library or follow the routines below, you'll be able to roll out of bed in the dirty clothes, make unattractive grunting noises, and pick all your wedgies. No one will be watching except that creepy neighbor with the binoculars…but you secretly like that anyway.
Toning Routines
Check out our survival guide on Beginning Yoga to find out how you can learn a routine from a professional instructor before you start practicing on your own.
Routines with Weights
See if your parents have any old dumbbells lying around the garage (or maybe even a Bowflex) and bring them to your place.
Routines without Weights
Check out Fitsugar for online exercise videos.
Exercise At the Gym
The more you look like you know what you're doing, the less likely you are to have awkward confrontations with a crazy trainer named T-Dog who keeps screaming something about "pump town" in your ear while you try to do bicep curls. Turn up the Pap Roach on your iPod, follow the routines below, and carefully avert your gaze from T-Dog's spandex-covered package. (If you need to actually join a gym first, check out this survival guide.)
Cardio Machines
Weight Training
Finally, try the different exercise classes offered by your gym. Whether it's Pilates, kickboxing, or 15-minute abs, working out with a group makes you less likely to cut corners and more likely to see hotties up close and personal.