Kitchen 101: Cooking Supplies
•
COMMENTS

(0)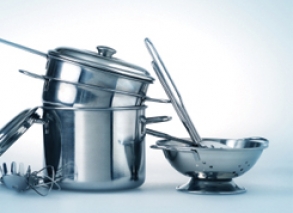 When setting up your first kitchen, it's tempting to rush out and stock up on everything you could possibly ever need. But before you start filling your cart like a a "Supermarket Sweep" contestant, take some time to think about your needs. Stocking your kitchen is
somewhat like building your wardrobe. It's probably best to invest in the quality basics—your little black dress, business suit and jeans—before picking out the frivolous accent pieces.
Kitchen Basics
Don't Do Starter Kits
First, avoid the allure of starter kits. Sure, they're tempting—you get a mountainous collection of kitchenware for what seems like a bargain price—but there's a reason they're called "starter sets" and not, say, "five-star-chef-in-a-box." Unless you really know the ins and outs of what you're getting, you could end up with an economy-grade hodgepodge of products. Instead, invest in some nice essential kitchen accessories off the bat; you end up saving more in the long-term and enjoying your quality products from day one.
Where to Shop
Before you drop any dinero, hit up your parents and grandparents to see what odds and ends they want to get rid of—you'd be surprised how many plates can accumulate over time. From there, move on to the stores. If you've done your research and don't need to see things in person to commit to a buy, Amazon is a dependable source for new and used products. A handy alternative is Ikea, the reliable go-to spot for inexpensive accessories for most anything you can dream of using in a first pad. And Ikea's low-cost cousin Costco offers bulk items and membership benefits that definitely help you score some solid deals. If you want really top-grade products, don't forget to check out restaurant supply stores, which often combine high quality with great sales.
Knives
In terms of what to buy, take care of things like your dishes, glasses, and flatware first. And unless you take very large bites, a few quality knives are also important. Your go-to knife will be a chef's knife (preferably one with a blade that's forged rather than filled). If you can afford one, Santoku blade makes precise slices on even the most delicate foods. In addition, a small paring knife is good for intricate cutting and fine chopping, while a serrated knife is indispensable for loaves of bread. You won't get far without a cheese grater, but save money when it comes to the messy, wasteful garlic press and chop those cloves by hand. Speaking of chopping, don't forget your cutting boards—while not as attractive as wood, plastic ones are easier to clean.
Cookware
For cookware, a skillet comes in handy for sautéing and frying. A sturdy saucepan is also versatile for soups and, obviously, sauces. But don't forget about your typical cooking tools like a spatula, whisk, measuring cups and spoons, oven mitt, hot plate (or "trivet"), and stirring spoons. Roasting pans and a cookie sheet are useful for any oven activities, even if you just use them to catch drips. And mixing bowls are nice for marinating, baking, and general cooking needs. But since they can get bulky, try and find nesting bowls to take up less space.
Microwave and More
If your kitchen doesn't already have one, get yourself a microwave to warm up leftovers, defrost meats, and prepare the occasional (gasp) frozen dinner. Also, be sure to take care of your tea kettle, coffee essentials (I like the French press), blender, toaster or whatever you require to make it through the mornings. Finally, you should definitely get some tupperware to store leftovers (you'll save a ton of money if you can easily bring last night's dinner into work for lunch).
Beyond the Kitchen Basics
Once you get beyond basics, it's time for your bonus sweep. Take a hint from the game show and think about the clues for what you'll need before dashing out to buy your kitchen extras. Decide how often you plan to cook and what you like to make. This is where you have the space to individualize your kitchen and tailor it to personal preferences.
For the Prep Work
A food processor will make a world of difference in managing your time and prep work. It can chop vegetables, puree soups, blend hummus, and process pastry dough with the different blades. Larger ones take up a good amount of space, but the mini-sized version will do for small servings.
For the Sweet Tooth
If you bake and are looking to splurge, indulge in a KitchenAid mixer. They're a bit pricey and take up space, but there's no better way to whip up batters, dough, and fluffy meringues. Plus, it is an investment that will last a lifetime. You can also accumulate attachments like the juicer and ice cream maker, which will save you the heft and expense of buying each specialty machine separately. Of course, you can always settle for a hand mixer in the short term. If you plan to go bake-wild, don't get started without the necessary tart and muffin tins, cake pans, and molds. They take up a good amount of space, but are fun for baking experiments. Plus, unless you work for a modelling agency, it's a universal rule that baked goods will help you earn high marks with co-workers. Tip: A simple ice cream scoop works overtime as a perfect way to measure out cookie dough for even baking.
For Personal Obsessions
This is where things can get tricky. Don't buy something because you think you might one day use it. This is a time to try your hand at making your favorite treats, but only the ones that you're most likely to use. The popcorn maker, pineapple corer, and milk foamer are just three occupants of my kitchen graveyard. However, they could be everyday essentials for the right people. As a devoted fan of yogurt, an initial investment of $40 in a yogurt maker has meant many pleasurable days of concocting my own jars of flavored, blended, and plain yogurt to suit my taste, not to mention saving hundreds of dollars and a good amount of wasted packages on individual store-bought cartons. If you plan to brown bag your lunches, a bread maker will surely spice up boring lunch sandwiches and bring out your inner dough boy. You can concoct any new flavor combinations you dream up to match your sandwich fillings and also try your hand at sweet breads for some delicious weekend French toast.
For Cooking Odysseys
More adventurous tastebuds can spice up the kitchen battalion with a few ethnic touches. Try making pasta and ravioli with a simple and affordable pasta maker or buy a tagine for Moroccan stews. Woks are perfect for a quick and healthy stir fry dinner and can be found for bargain prices in many Chinese grocery stores. For laborious spice mixes, a cheap coffee grinder or a mortar and pestle are essential and will help you achieve the texture and consistency of authentic fare.
Basically, if you take the time to figure out your cooking needs, you'll have everything that you desire and require on hand without the frustration of pricey bulk that you don't use. Now get cooking!