Hiring a Professional Mover
•
COMMENTS

(1)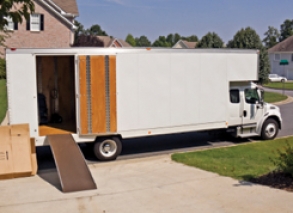 Sometimes you just have too much stuff or too few people willing to work for hot dogs and beer to trek it across the country without hired movers. And no matter how easy you think it might be to just toss all your material belongings into a giant rental truck – it's not. Plus, you'll most likely end up spending your last precious days
of college or valuable vacation time renting a U-Haul, packing up all your stuff, moving it out, traveling, moving in, and then returning the rental vehicle. Admittedly, hiring a mover is significantly more expensive than doing it yourself, but for some, it's worth every penny (and it might be flat-out necessary if enormous armoires are involved). That being said, it is extremely important to be savvy, organized and prepared when choosing a mover to trust with your possessions. Otherwise, you could end up with a ton of stress and a giant bill. Read on for tips on hiring a mover (and squeezing every cent of labor out of them).
Prep-Work
The first step is to get a rough estimate of how much stuff you are moving before calling moving companies for a price quote. Decide what exactly you cannot live without and what stuff will just end up in storage after a month. Once you know what you need, you should try to determine how much it all amounts to in mover's terms (i.e., cardboard boxes). As a point of reference, Box Kits, a moving supply wholesaler, suggests eight medium, four large, and two extra large boxes for a studio and roughly one and a half times that for a one bedroom, in addition to the various duffle bags of clothing and items of furniture.
Once you know how many boxes and pieces of furniture you are transporting, you should take note of potential obstacles that might complicate the move. Be informed about all the logistics of where you currently live and where you are moving. For example:
Are there specific times for loading and unloading?
Are there street or parking restrictions?
Exactly how many flights of stairs separate your lobby from your living room?
Do you need to get a reservation to use the utility elevator?
You should know anything and everything that could make the move last longer or possibly give the movers a reason to tack on extra charges to the bill.
Moving Options
Once you have committed to hiring help, the only way to get the best possible deal is to call around. Look into every national and local moving company in the area until you find the one with the lowest fees. Most national movers will base their price on distance and weight, whereas local movers may charge by the hour ($125 to $150 is pretty standard). We looked at three different possible moves and priced them out accordingly: In order to transport a reasonably well-stocked one bedroom a short distance (e.g., from Brooklyn, NY, to Manhattan, NY), National Van Lines estimated $1,150. For a medium distance (e.g., Boston to Chicago) the price quoted was about $1,900, and for a long distance (e.g., New York to San Francisco) $2,700.
Two other highly rated national moving companies are Flat Rate Movers and Move East. However, it may be easier to find a cheaper deal with one of the local guys. Some very helpful sites to find them are City Search (under the "best of" services category) and Craigslist.com. Other directories of local movers include 123 Movers and Movers Directory, but the information isn't always accurate and they sometimes require an email address or phone number to provide a price quote.
Another potential option is sending all your boxes as freight. Two companies—MadPackers and College Boxes—cater specifically to the post-college crowd. MadPackers arranges everything into kits with a range of different sized boxes. They will also pick them up from your college dorm or post-college apartment and send them anywhere in the U.S. For a 5-box kit, the cost is $279, a 10-box kit will run $499, and a 15-box kit is $699. Downside: they don't send furniture. But unless that couch is brand new and costs over a $1,000, you probably shouldn't be shipping it across the country anyway.
The Fine Print
Once you are quoted an initial estimate, it is helpful to rattle off any potential obstacles you noted to ensure that the movers know as much about the move as possible. Then ask the following questions, very clearly, and make sure to get an unequivocal response about if and by how much the estimate will change due to each one. If the guy gets testy or impatient, don't be unnerved. Just ask him if he would like you to call someone else and he'll probably play along to keep your business.
Is there an additional travel cost to the current apartment and back from the new one?
Does the company charge extra for any particular items like an armoire or large bookshelf?
Does the company use a subcontractor, and if so what is their name and number?
Will the company transfer your goods mid-move to a different truck (thus increasing chances of breakage)?
What is their insurance policy? Most movers insure at sixty cents to the pound, which may not be enough to cover the cost of your valuables. Before you purchase additional insurance, see if you are covered under your homeowner's insurance (if you've got it).
Ask for referrals and inquire as to whether the company has any outstanding claims against them (this last question is clearly the most aggressive but hey, it's completely fair).
Choose a Mover
After the competition has answered your anal queries, check out your top pick at the Better Business Bureau to make sure they haven't had any customer complaints lodged against them. If everything seems Kosher, then book them. If possible, try to make the reservation for the middle of the month when they are usually less busy and offer better deals. Booking at least one month ahead of time should ensure that you get the date you want. For higher traffic months, like August and September, you may want to book a couple months ahead.
Packing It Up
It is tempting to just dump all your drawers and dresser tops into the biggest box you can find and hope it sorts itself out later. But the more time you put in packing up, the easier things will be once you've landed at your new home (or mom and dad's house). Keep these basic tips in mind when preparing for the move.
All moving companies charge through the roof for any packing supplies that they have to provide. So make sure to buy packing materials. For cheap boxes, try an online seller like the above mentioned Box Kits or Uline. You'll have to buy a bunch, but they'll come out to a measly buck fifty per box.
Make sure to opt for packing in large boxes rather than smaller ones. Think fewer trips up and down the stairs.
Pack everything carefully and efficiently. Secure all breakable items with bubble wrap, newspaper, or clothes. For the larger items like couches and desks, wrap them in old blankets and tape up any protruding pieces of wood or metal.
Organize and label items to make unpacking run more smoothly. And make a detailed inventory of the number of boxes and other pieces of furniture to later match against the mover's list.
If something is irreplaceable or valuable or you just don't want to risk it getting broken, carry it yourself—don't trust the movers with great grandmother's ancient tea set or the home-made wooden vase your uncle whittled with his bare hands.
Place all packed stuff as close to the exit of your old apartment as possible. Have water and get detailed directions ready for the movers when they arrive.
For more tips on packing check out About.com's packing tips and Penske's quick list of how to pack specific items.
Day of the Move
When the movers show up, take the lead. If they seem to be handling your stuff a bit more nonchalantly than you'd like, say something. Don't just let them toss things in the truck willy-nilly. Make sure they know which boxes contain breakable pieces and earnestly appeal to them to be careful. Oh, and try not to smile too much when they lug that two hundred pound couch up the stairs. You know it's great not to have to carry that heavy monster of a sofa, but no need to rub it in.
And when all is settled and done, sit back and relax, and listen to all the horror stories friends will have about moves gone horribly awry. Absurd bills, broken tables and dishes, and deep emotional scars. And to think—had they just done a little prep work and planned ahead, it would have gone as smoothly as your move.