Furnishing Your Apartment
•
COMMENTS

(0)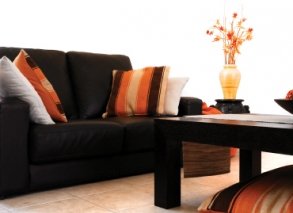 Quick Tips
Plan your pad – Make sure you take measurements of your place and think carefully about where you want to put large pieces of furniture before you go on a shopping spree. The only thing worse than an empty apartment is a cramped apartment with no room for your bed (or you).

Décor decisions – You don't have to become the next Martha Stewart to decide on a décor style that suits your tastes. Furniture you find ugly, mismatched, or unappealing won't make your place feel like home.

Bargain buys – Getting furniture doesn't have to be expensive. There are plenty of thrifty outlets you can explore to find that perfect couch: flea markets, garage sales, and the Salvation Army are all solid bets. If all else fails, you can always turn to your family and see if grandma's vintage armoire is up for grabs.

Get it on the 'net – Buying furniture online is faster, less of a hassle, and in many cases cheaper than trucking over to Ikea and hauling your dinner table home yourself. Furnish your place from the comfort of your own computer, and be sure to check out online-only sales.

From trash to treasure – Don't be a snob about rejecting old, used, or slightly damaged furniture. Paint, sandpaper, wood primer, and slipcovers can work wonders and give sorry-looking furnishings a new lease on life.
I never thought I'd miss my college dorm room furniture until, staring into the barren, white-walled expanse of my first apartment, I truly realized that it was gone. Overwhelmed by the emptiness of it all (well, all three rooms of it), I had a sudden distorted nostalgia for all those
university-issued fixtures: Blonde-wood dressers and their perpetually dislocating drawers. An unyielding love seat with a penchant for inducing back spasms. My twin-sized plastic mattress that buckled under the weight of even the tamest sex act. It's not that I actually liked these furnishings (or the Soviet-era design sense they evoked). But faced with the prospect of buying everything from scratch, they seemed, well, homey.
Thankfully, bolstered by advice from my apartment-dwelling friends, some help from family, and a lot of scrupulous bargain hunting, I successfully pieced together a fully furnished apartment (for a reasonable price) within a month of signing my first lease. Best of all, I banished dorm room furniture to my distant memory. Here are a few guidelines to help apartment newbs do the same.
If you don't even know what you need, check out About.com's Top 10 Furnishings for First-Time Buyers. Also, for advice on purchasing specific items, check out our guides to buying a mattress, TV, couch, and air-conditioning.
Before You Buy
Measure Everything
Before you start filling the pad with furniture, bust out that tape measure and draft an accurate floor plan of your apartment. Take especially careful measurements of hallways, stairs, and elevators, as well as any turns in your new building's staircase in case you have to haul large pieces of furniture up to a fourth-story walk-up. Once you know the dimensions, use this handy Arrange-a-Room tool for ideas on how to set everything up.
Trick of the Eye
Very few first apartments are mansion-sized. Most recent college grads (myself included) have to make the most that they can with little space. Here are tips for making that small pad seem larger:
Choose space-efficient furniture that has more than one use. A futon or pull-out couch can comfortably accommodate a couple of sedentary butts vegging out in front of the TV, as well as double as a guest bed. In the dining room, save space with a drop-leaf table and some classy-looking collapsible chairs that fold up when there's no beer pong or poker going on.
Don't overbuy. Even the most spacious apartment can quickly become cramped with too much furniture, so try not to go overboard and stick to the basics.
Anchor a room with simple, neutral-toned pieces. Besides making your space look bigger, they'll allow you to make bolder choices with artwork, wall coverings, and accessories.
Decide on a Décor Style
Your new pad may not be worthy of the pages interior design mags like Domino, Home, or Martha Stewart Living (which are great places to troll for design ideas, by the way), but it should still reflect your personal tastes and style. Maybe you want the sleek, minimalist look of assemble-it-yourself pieces from Ikea, or an eclectic collection of flea market finds. Either way, choose a décor style and run with it. For more ideas, check out SoYouWanna.com's décor tips or the popular home improvement blog, Apartment Therapy.
Where to Get It
Keep It in the Family
At height of my furniture-less frenzy, I turned to my folks for "help" (i.e., money). What they gave me was, surprisingly, even better than Benjamins: I got to take home my grandmother's vintage bedroom set, which, unbeknownst to me, had been collecting dust for years in a storage unit.
Think Locally
For great deals on all kinds of gently used home goods, stop in at the closest Salvation Army and Goodwill, both of which often carry full furniture sets. Garage sales and flea markets are also good places to scout for that odd or unique piece.
Take It to the Street
You know what they say: one person's trash is another person's sweet street find. Perfectly good used furniture gets chucked every day, but it's not always easy to come across. To narrow down the search, contact the local sanitation department to find out the trash pick-up schedule for our neighborhood, or an area worth exploring—if there's any good furniture to find, it'll usually get dragged out for pick-up the night before or morning of. For more expert tips on "sidewalk shopping," check out this New York Magazine article about one man's quest to furnish his entire apartment with street finds. Still on campus? Check out what other seniors are chucking. Get a bigger moving truck and you can clean up on moving day.
Word of wisdon: often those street, attic, or thrift store finds are in need of a serious overhaul. But don't pass on a piece just because it needs some work. Domino has all the steps to guide you to glory. Also, remember that sometimes a simple slipcover over a used couch will do the trick.
Shop Online
These days, everything is cheaper online, and furniture is no exception. Besides Craigslist and eBay, there are great deals to be had at discount websites like Overstock.com. Also, many big brick-and-mortar stores—like Macy's, Pier One Imports, and West Elm, for example—offer exclusive, online-only sales. Some even have separate discount-oriented spin-off sites or online outlets, like Crate and Barrel's CB2.
Scratch and Dent
Almost every furniture store sells their floor models and "slightly damaged" goods for a fraction of the cost. It's not like carrying a knock-off Louis Vuitton or anything—you still get the name brand, just with a little blemish.
The Next Level: DIY
Can't find that specific fixture, or just plain sick of shopping for furniture? Then consider building your own stock from scratch. Site likes Lifehacker, the chick-oriented Be Jane, and DIY Network are chock-full of instructional articles and weekend projects to guide novice builders through constructing their dream pieces.