DIY Education
By
Christopher Schonberger
•
COMMENTS

(0)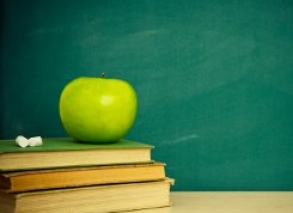 [In school] I was never interested in things I was forced to study… I only began to enjoy studying after I got though the educational system and became a so-called member of society. If something interested me, and I could study it at my own pace and
approach it the way I liked, I was pretty efficient at acquiring knowledge and skills. It takes a lot of time to acquire a skill this way, and you go through a lot of trial and error, but what you learn sticks with you. — Haruki Murakami
Murakami may be from Japan, but he speaks a universal language when he explains his attitude toward school and learning. Even when you reach college and have a good deal of choice in what classes you take, there's still a certain aversion to working hard on anything that someone else has told you to do. For example, you might be down to read Brave New World when you're chilling on the beach during summer break, but when someone suddenly tells you to read it (and "within the next week" at that), somehow the magic fades a bit. We all have that little anti-authority streak in us—it's only natural!
Ironically, it's only as recent grads that many of us discover our nascent intellectual curiosity, waiting to wander free outside the classroom. On the flip side, some of us have already discovered it, but once we begin working in the "real world" we suddenly realize there are a lot of cool skills to pick up that weren't really on our radar in college (e.g., practical ones). But have no fear—DIY education is here! Even if you didn't make it through all those coursepacks and problem sets, you can still learn a lot of things you missed in college, as well as many things that weren't even available. And this time, you don't have to pay a cent.
Once you've settled into your post-graduate life a bit, you're in a perfect position to finally dig into the topics that don't help your GPA or career prospects but just interest you. Use this article to brainstorm ideas for self-education and find resources to get started. Remember: teachers teach you how to be stupid!
General Interest
Learning does not have to be "structured" or involve a "class"—it can be impromptu, piecemeal, and fun. Indeed, some of the most satisfying moments of self-education come spontaneously. Use these sites to satisfy those random knowledge pangs.
Librarian Chick. This utterly overwhelming page is like an all-you-can-eat feast of self-education. Check out free textbooks, audiobooks, and resources from this beneficent librarian. There's even an "Online Learning" section featuring links to courses, tutorials, and more.
Wikipedia. Most of us wastes hours at a computer every day, yet we ignore the fact that we have unfettered access to Wikipedia, the foremost authority on everything in the world. Why not take a break from Perez every once in a while and get you a little learnin'? My friend even thought of a fun and educational game called "Dead or Alive": Think of someone who used to be famous, guess whether or not they've kicked the bucket, then Wiki the answer/biography.
The 60 Second Lectures. Every fall and spring, professors at the University of Pennsylvania are asked to give one-minute lectures on any topic of their choosing. Sometimes they run a little bit over, but for bite-sized snippets of high-minded intellectualism (topics range from the human brain to JFK's sex life), this site is a great place to waste some time.
Big Think. Cut through the hot air of talking heads and commentators by finding out what "ideas" politicians, thinkers, and other doers have about the topics you care about. Check out short videos on everything from McCain's thoughts on terrorism to Moby's advice for young musicians.
Ask Metafilter. Got some burning question that you can't find an answer to? This is the very heart of intellectual discovery. Instead of heading to the library, why not just ask some strangers on the 'net? Google Answers is retired and Yahoo Answers is kind of wack, so I recommend the highbrow MeFi crowd for a quality response. However, if your question is pretty straightforward, you could always just ask ChaCha.
Self-study in Buddhism. Mind, body, and soul, remember?
Computers, Web Development, and Other Awesomely Geeky Stuff
HTML, Java, and Perl may have been words you only associated with the biggest dorkus malorkuses in high school, but now those poindexters are raking in sick cash from home or flossing like Mark Zuckerberg. Thankfully, it's not too late to get in on the action. Whether you want to start pawning off your programming and graphic design skills on MyJambi or start your own website, the Web is (not surprisingly) a great place to learn the basics. Here are some resources to check out:
College Redux
Someone might have told you that there are "no do-overs" in college, but that's not really true at all. If you squandered your days playing Ultimate or wish you'd gone to a different school, don't worry—there are tons of free college courses and resources available via the Interweb. As Mark Twain said, "I have never let my schooling interfere with my education."
Getting Offline
The Internet is an endless resource for self-education, but sometimes you want to get out the house, interact with humans, or do something awesome like learn to shred a guitar. It's time to take advantage of all your post-college city has to offer! Check out these suggestions, and be sure to read our tips for finding cheap deals for recent grads.
Museums on the cheap. Look out for special days when local museums are free, or consider becoming a member of your favorite museum to take part in free events, lectures, and openings.
Find a teacher. Whatever you want to learn, there's someone out there who can teach it to you. Check out Craigslist and MyJambi to track down the right person for your needs.
Learn a language. There are many ways to learn a language from the comfort of your apartment, but actually getting a chance to interact and speak with people can speed up the process significantly. Search online for language schools in your area, then use these guidelines to help you pick the right one. If you really want to stay home, you can use My Language Exchange to find native speakers who will be your email/text/video-chat pen pal. Also worth checking out is a new site called LiveMocha, which offers free online classes and the chance to interact with other speakers.
Free cultural events. Get to know your new city and it will reward you. Check out listings magazines like TimeOut and pick up free local papers to find out what type of events are going on in your area.
We know this list barely scratches the surface of the topics and resources out there waiting to be explored—please share your favorite sites for e-learning in the comments.