Cheap Deals for Graduates
•
COMMENTS

(3)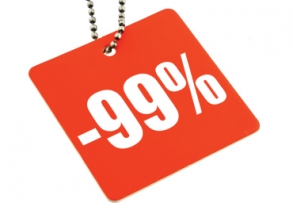 Quick Tips
Bow down to Craigslist – Whether you're looking for furniture or cheap salsa lessons, this is really the mecca of deals, and also a good place to unload your unwanted stuff to make some money for other things.

Stay aware – Just like an old grandma clipping coupons, recent grads have to put some effort into getting great deals. Keep tabs on local magazines and newspapers that have listings for free events or special deals, as well as websites that cater to your city (e.g., the Gothamist network).

Buy in bulk – Eating out and grocery shopping for one can be a huge monthly expense. Try going to bulk discount chains like Sam's Club and BJ's once a month instead of picking up a couple items from the more expensive local market every few days.

Share is caring (about your wallet) – Whether we swap movies with our friends or trade in our used books for new ones, being thrifty warms the heart.
Like milk sitting in a fridge, student discount cards expire. All those sweet savings down the drain. I'll admit it; I sobbed like a schoolgirl when I lost mine. But as my tears dried, I soon found that there are tons of good deals out there. These deals let us
educate our minds, nourish our bodies, and entertain our souls, all on a tight budget. Before the next age-related discount cards kick in (just 40 years until senior discounts!), follow this guide to finding the best deals.
Mind
Blowing cash on culture is like drinking wheatgrass; you know its good for you, but that doesn't make it any less bitter. Resolution: Find cheap entertainment, join clubs, and visit museums where you can make saucy comments to elderly gentlemen about the positioning of nude sculptures.
Cheap Entertainment
Home
Buy Used – Who cares if someone in Alabama watched a copy of Old School three times before you! As long as it's not porn or underwear, used goods rock. You can get books, movies, or CDs for sometimes just a penny at half.com. Major book chains like Amazon and Barnes & Noble have also jumped on the used goods bandwagon, but sites like Abebooks are still the best. Even check out Craigslist to swap goods with other broke folks.
Get a Library Card – With an arsenal of books and movies, local libraries are not just places for ex-cons to check their email.
Away
See a Show – Not enough dancing, prancing, and singing in your life? Sometimes musical theater is just what the doctor ordered. Places like TKTS provide discount theater tickets in NYC. Or volunteer to usher for free tickets. Some theaters offer group rates, pay-what-you-can nights, bargain matinees, standing room, or two-for-one specials. Call local theaters to see if they have similar deals and to be put on a member list with updates about upcoming shows, reduced tickets, and invites to member events.
Free events at local parks – During the summer, parks offers free screenings of movies, poetry readings, and even Shakespeare performances. Find out what's going down at your local park.
Alumni Benefits – Alumni associations often offer discounts on anything from theater to tickets for school events (sports, lectures, concerts, etc.)
Join Clubs
Choose Any Club – Whether it's a book, wine, or hiking club, choosing something you love will make the membership fee worthwhile.
Rent Cheaply – Thanks to Netflix and Blockbuster, you can leave on the Cheeto-stained sweats and receive unlimited movies for a flat rate without ever having to leave home.
Get Carded – Some discount cards exist in the real world beyond your wrinkled bus passes.

STA Travel offers a travel card to young folks under 25, no official student status required!
Didn't burn your student advantage cards during the excitement of graduation? You still have one year to use them up before they expire.
Museums
Discount Days – Many museums offer lower or even "suggested" (meaning "yeah right") admission on certain days. Check out local museums and these NYC standards Also, look out for special nights when museums are free.
Become a member – Talk to your favorite museums and see if they offer membership discounts, gift shop specials, and newsletters to keep you in the know. Perks for members may include events like the Guggenheim's First Fridays in NYC. Find the local favorite at Citysearch.
Body
Being broke is no excuse to let your hair grow ragged and let your cute little tummy expand into a full-fledged beer belly. Just don't sacrifice your basic standards. Nothing is worse then spending $10 on a wax only to end up in a dim-lit back room with huge patches of skin ripped off and a lady with a pain fetish cackling over your howls of agony.
Keeping Up Appearances
Free Grooming
Sweat It Out
Cheap Gyms – Big name gyms like Bally Total Fitness offer discounts and free trial memberships during off-seasons. Still too expensive? Follow the Village People to the YMCA for as little as $30 a month.
Company Benefits – Some companies offer employee discounts or gym reimbursement as part of benefits package. Check in with HR or ask around the office.
Alumni Benefits – Universities offer cheap alumni memberships to their campus gym or local workout facilities. Check out the the partnership between NYU and OM Yoga or UCLA's alumni discount on equipment.
Eating Well
Find a local co-op – Forget coupon clipping and early bird specials with Great Aunt Betty. Instead, get fresh locally grown produce at a discount.
Buy in Bulk – One true sign of adulthood is walking out of bulk chains like Sam's Club and BJ's with eight-dozen bagel pizzas and three cases of Bud Light to go with it. At least that's what I told my mom when she caught me washing down a dozen pizza bagels with half a dozen beers.
Restaurant Weeks – From San Francisco to D.C., these events almost trick us into thinking we can afford fine dining. Most major cities have one or two a year, allowing you to feed this delusion with three-course meals for only $20 or $30.
Life Standards
Alumni Benefits – Getting down to the nitty-gritty life essentials can be taxing on your body. Luckily, most major universities and colleges alumni associations offer recent grads some peace with discounts on insurance (like Marsh Insurance or Liberty Mutual), help with moving and storage, and parking discounts. All you have to do is ask.
Soul
Sometimes it's worth it to splurge, especially after a hard day of brown-nosing, spilling coffee on your last clean shirt, and nearly getting flattened by bike messengers. Lucky for you, there are sweet deals on completely extravagances of all kinds.
Going Out
Cheap Drinks – Watching the clock tick by until it strikes happy hour is a game we all play. With this web guide, finding your favorite is so much easier. But recent grads often forget what a bartending friend of mine pointed out: College bars always have cheap specials (and often beer bongs).
Cheap Laughs – In major cities, comedy clubs often offer free or discounted covers during the week or for amateur showcases. Up-and-coming comedy troupes often play free at local joints. Call local comedy clubs to see if they offer such deals.
Alumni Benefits – Travel discounts galore! From car rentals to airlines to hotels, your schools can score you discounts on vacations that aren't limited to campus football games.
Buying Something Pretty