Beginning Yoga
By
Christopher Schonberger
•
COMMENTS

(0)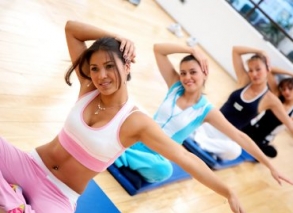 Quick Tips
Calm down – Many recent grads flock to yoga because they want to reinvent themselves. It's not really that type of party for most people, but there's no denying that it's a good workout and can make you feel a lot better. Go in with a relaxed attitude and enjoy.

Try different types – There may not be a "yoga class for everyone," but there are a wide range of classes catering to different skill levels and goals. Don't just sweat your ass off in Bikram and swear off all yoga for good. Try some different practices until you find one you like.

Find the right class – Use YogaFinder.com and Yoga.com to find classes in your area, and remember that many gyms offer classes for free with membership. If you want to join a studio, ask around for recommendations and take a trial class before committing.

Go with the flow – Different people have different opinions on the meditative aspect of yoga, and many classes are almost entirely focused on exercise anyway. That said, have an open mind and enjoy the closeness that yoga helps you feel to your body and breath.

Buy a mat – If you're really going to start doing yoga regularly, get your own mat. You may look like a bohemian wankster on the subway, but at least you won't have to pay rental fees or soak up the last yogi's sweat.
When a recent grad suddenly expresses interest in yoga, you know that they are either extremely hungover or have recently been thinking about "the future" and got depressed. Maybe they're not exactly sure what's wrong, but they know they need a lifestyle change to get back on track. Simply "working out" will not suffice. They feel the need to address the mind-body-and-soul trifecta in its totality…preferably all at once, for about an hour at a time.
Within the twentysomething psychology, yoga is often privileged as a "cure-all" for a life gone slightly off the rails. No "get right by life" plan is complete without a little downward-facing dog thrown into the mix. I know because I've walked down the path to…uh, the yoga studio…with little more than a vague sense of purpose. "If I don't start stretching soon, I'm gonna be in a wheelchair by the time I'm 40," I'd think to myself. "I need something to counteract the stress of being unemployed."
Yoga fit the bill on all fronts, and even after watching a girl start crying in the "frog position," I still recommend that people try it. That said, I made some beginner's mistakes and got myself into some positions that I literally didn't enjoy, so I thought I'd share some tips for entering the world of semi-meditative exercise. Don't expect it to make you a better person (don't tell the instructor I said that!), but do expect to have some fun and feel pretty good.
An Extremely Brief and Borderline Offensive History of Yoga
Well before Christ, people in India were living abstemiously and meditating all the time in hopes of achieving the Hindu holy grail of "enlightenment." This sort of thing went on for thousands of years (and it still does in some places), but it really has nothing to do with the yoga-as-exercise craze that has swept the Western world. (Fun Fact: Yoga is a $4 billion a year industry in the U.S. alone.) Many of the practices you'll find today were "invented" in the '90s and are just as likely to feature wisdom from Michael Jordan's biography as the Hindu scriptures. Think self-empowerment and "good living" rather than spiritual enlightenment—Spice World!
Choosing the Right Yoga Class
The yoga spectrum stretches across many incarnations of the practice, though most classes that you'll find skew more toward exercise than the meditation/spirituality, or they combine a little of both. It's worth trying out a few types when you're first getting started, though if you know your goals you can narrow down the field a bit. Here's an imperfect but helpful breakdown of your options:
Meditative/Stretching-Oriented
Hatha. "Hatha yoga" pretty much just means yoga, but if you see a class described as such you can bet your booty shorts that it will be on the gentler side, focusing mostly on stretching and simple breathing techniques. There may also be some seated meditation thrown in. Hatha is a good starting point for getting a sense of what yoga's all about.
Moderate
Anusara. This is a "change your whole life" type of practice, but in a lighthearted, non-cultish type of way. The exercises include a lot of movement and alignment work, but props are used that help make most poses accessible to people of different skill levels. Philosophically, there is an emphasis on positivity and opening your heart—the practice doesn't end when you leave the yoga studio! Bring it to the world and let your light shine, player.
Vinyasa. Like Hatha, this is a broad term encompassing a range of classes, but the basic practice is a little more fast-paced in nature. Vinyasa is often called "Flow" because it involves transitioning between poses on the inhale or exhale in a smooth, fluid set of movements. Strengthening poses are often held for a long time and involve a lot more than just stretching. You'll almost definitely sweat.
Jivamukti. Russell Simmons and a lot of Hollywood-types are into Jivamukti. It's a relatively strenuous, vinyasa-style practice with a healthy dose of chanting and philosophizing.
Physical
Ashtanga. Ashtanga utilizes the concept of "flow," but classes are generally longer and offered at a number of skill levels. This type of yoga encompasses a number of different "series," each of which uses a progression of poses and thus appeal to OCD people.
Bikram (aka Hot Yoga). Invented by living yoga master Bikram Choudhury, "hot yoga" gets its name from the fact that it's done in a hot-ass room (usually the temperature is somewhere between 95 and 100 degrees). I like to imagine that it approximates the actual conditions in India, but I don't think that's the official purpose. Instead, the heat is supposed to loosen you up and help you sweat out toxins (so if you go on a Sunday monring, be prepared to be overwhelmed by the stench of booze). The majority of classes involve a series of 26 poses, each performed twice in a 1.5 hour class. When you go the first time, you may feel like you are going to pass out within about half an hour of stepping in the room. Wear comfortable and light clothing and drinks loads of water before and after to avoid feeling horrible.
Power Yoga. Power yoga was first mentioned in the Bhagavad Gita in 1100 B.C., and it was considered by many ancient gurus to be the most spiritual of all yoga practices. Just kidding—it came about in the early 90s when yoga was gaining popularity but Americans wanted to feel like they were getting more of a workout. Again, it involves a vinyasa-style practice, and it focuses on a combination of strength and flexibility. Chanting and meditation is kept to a minimum—it may not even factor in.
Yogalates. This is like running in the pool, or playing BASEketball. You're on your own—I'm not really sure how this spiritual hybrid sits with the gods, so I steer clear.
Where to Go
Yoga, as either exercise or a meditative activity, can be performed all over the place. Ever seen one of the old Asian women doing curious movements under a tree or next to a river? That ain't yoga. But it very well could be—a true yogi could practice almost anywhere. That said, beginner classes are the best way to start for everyone, because yoga is not an intuitive activity—the postures are weird and the breathing is, apparently, an art form. Even once they've reached an advanced level, many yoga enthusiasts still attend classes to help structure their workouts and provide access to communal yelling. If you're looking to get started, here are the best places to look for classes:
Gyms. Many gyms offer yoga classes that are free to members of the gym. Sometimes the quality of the instructors is not as good as at a yoga studio, but sometimes they are great (you can ask to see certification if you are really suspicious). At any rate, it's worth giving a few classes a shot before you shell out any extra money. If you have a friend who does yoga at a gym, ask to go as a guest so that you can decide if it's worth your while to join. Also, check out our survival guide to Joining a Gym, and use YogaFinder.com to track down classes in your area.

Yoga Studios. Some types of yoga—most notably Bikram—are generally only available at specialized studios. Once you've found a type of practice you like, you might consider going to a specialized studio if you think the level of instruction is better. Generally one-off visits seem like a waste of money if think about spending $10-20 for a workout, but they're necessary to figure out if you like the classes. From there, most studios offer a variety of packages, including flat-fee bundles (e.g., 5 visits for $50) and one-month to one-year memberships. Bundles are good if you think your attendance will be inconsistent, but if you really get into it the memberships make more sense. Use Yoga.com or ask friends and coworkers to find studios in your area. Also, look out for donation-based studios like Yoga to the People in NYC and Berkeley—if you are feeling thrifty you can just mooch off the generosity of others!

Community Centers. Join the grandmas at your local community center and maybe you can find someone who is simultaneously on point enough to cook dinner and senile enough to think you're her grandchild.
What You Need
The good news is you don't need shoes for yoga, at least until Nike convinces everyone they need $110 "Air Yogis" or something. The only thing you really need is a mat. Most gyms have mats available, but since studios will often charge a few bucks to rent one, it may be worth buying your own (especially if you are grossed out by other people's sweat). You can cop one at most sports stores for $20 and up, or check out Yoga.com's mats.
In terms of apparel, people will rock all sorts of ridiculous yoga pants (sometimes sexy ones) and other weird gear, but really you just want to be comfortable. Lots of girls wear tights or shorts with a t-shirt/tank-top, while dudes generally wear shorts and tees. Don't be surprised to see guys take their shirts off, especially at Bikram classes. The only real caveat is to remember you will be twisting around into some crazy positions, so you don't want to have clothes that constrain you. Also, if you're wearing short-shorts you better make sure they have built-in underwear! If the boys get out the barracks, it won't be a laughing matter for the person stuck in "Revolving Half Moon" pose inches away from your scrotum.
Finally, drink lots of water before and after. As long as you aren't the type of ornery bloke who gets mad at people for breathing loud or talking about "positive energy," yoga can be pretty calming. If you work it into a balanced exercise routine, I guarantee (though not in a legal sense) that it will do wonders for your post grad-health.