Top 10 Cities for Recent Grads
COMMENTS

(14)

FILED UNDER:
#8: LOS ANGELES (pop. 3,833,995)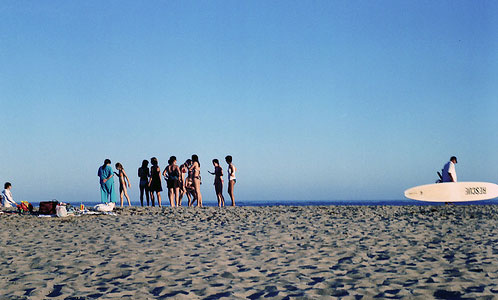 [Photo by kentmercurio]
Everyone in L.A. thinks his or her life is like Entourage, and for a select few, that's actually true. Others do their best to fake the funk, talking their way into various parties and hoping against hope that they are seconds away from "blowing up." But L.A. stands as a testament to the idea that weather really does matter—people are happy, beautiful, and relaxed. They leave work early and go to the beach year-round. So can anyone really blame them for loving their mirage of a city?
KEY STATS
Major Industries: Entertainment
Climate: Not too hot, not too cold, but just right all year (Winter—58°F, Summer—75°F)
Transportation: Car culture rules
Avg. Price of a One Bedroom Apartment: $1,240*
Cost of Living Index Value: 156**
Closing Time: 2AM (but many after-hours spots keep going 'til 6 in the mornin')
Professional Sports: MLB—Dodgers, Angels of Anaheim; NBA—Lakers, Clippers; NHL—Kings, Anaheim Ducks
Famous Foodstuffs: Burritos; Roscoe's Chicken & Waffles; the latest celebrity diet fad
You'll love it if… you're a laidback, sun-loving cat who just wants to chill
You'll be miserable if… you're obsessed with ideals of authenticity and don't embrace casual friendships
Best Thing Ever: A-list celeb sightings ain't a thang
Worst Thing Ever: People rarely act their age
TESTIMONIALS
Tons of people in their 20s (youth is good and welcoming), and there are a lot of different areas to fit your style (i.e., Santa Monica is for chill or fratty people, Hollywood is for the party folk, Los Feliz/Silver Lake for alternative folk). There's also a LOT of outdoors stuff in close proximity to the city (beach, hiking, skiing not to far) and a lot of opportunities for day trips. — Melissa, talent agency assistant
L.A.'s a terrible place. It's a city designed based on its fair weather, and, as fate would have it, all of its citizens are fair weather in their friendships and fandom. It's a city so phony that it's not even cool to be depressed in it! People pretend they're happy and relaxed, they leave work early and aggrandize their jobs to the point where they seem to earnestly believe that the job of 'Storytelling' is more honorable than a career in politics or public service. — Teddy, writer
Gradspot.com Rating: 72/100
(continued on next page)