Top 10 Cities for Recent Grads
COMMENTS

(14)

FILED UNDER:
#4: NEW YORK CITY (pop. 8,363,710)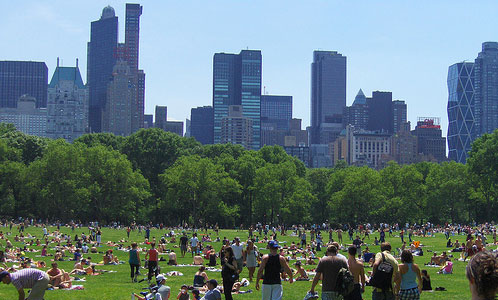 [Photo by joeshlabotnik]
New York City is Mecca for many recent grads looking to live the Twentysomething Dream. "Work hard, play hard" is the motto many live by, putting in long hours at the office and partying when the average person would wisely choose to go to bed. The yearning for success—that old "if you can make it here, you'll make it anywhere" attitude—is almost tangible, and while some feed off the energy, others find it exhausting. The transient hordes and uber-competitive real-estate market contribute to this restless energy, but if you can keep your own goals in sight, New York can be whatever you want it to be. Being bored is not an option.
KEY STATS
Major Industries: Finance, fashion, advertising/marketing, and publishing
Climate: Temperate spring and fall; stifling summer exacerbated by crowdedness and scarce air-conditioning; cold winters (Winter—34°F, Summer—77°F)
Transportation: Subway and cabs are a way of life. Parking fees are sky high and cars are essentially useless within the city. (Subway fare: $2.25.)
Avg. Price of a One Bedroom Apartment: $2,249*
Cost of Living Index Value: 165**
Closing Time: Bars close?
Professional Sports: MLB—Yankees, Mets; NFL—Giants, Jets; NBA—Knicks, Nets; NHL—Rangers, Devils, Islanders
Famous Foodstuffs: Pizza on every block; chicken cutlet sandwiches from the bodega; delicious (but often overpriced) meals of every cuisine imaginable
You'll love it if… you're a motivated, energetic type who doesn't mind living beyond your means in the name of "being young"
You'll be miserable if… you're a penny-pinching homebody who hates noise, people, and staying up late
Best Thing Ever: 24-hour everything
Worst Thing Ever: Various bridges and tunnels to NJ, Staten Island, and Long Island
TESTIMONIALS
Smart people live in New York. The people here challenge me to know what is going on in the world and in the city on a daily basis. Conversations with friends often involve references to current happenings. Jokes can be politically incorrect because people know what's up and what makes s--t funny. — Sarah, non-profit
Living in NYC as a recent college graduate can be difficult, as rent can easily cost more than your net income, but if you manage to find an affordable apartment it is definitely worth it. There are tons of young professionals filling bars at happy hour, and a wide spectrum of good places to go whether you are looking for fine dining or a good spot to get black-out drunk. — Steve, financial analyst
Gradspot.com Rating: 85/100
(continued on next page)