Writing the Perfect Resume
•
COMMENTS

(3)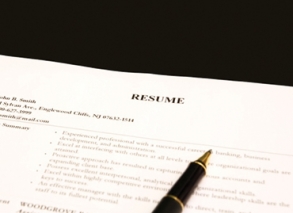 Quick Tips
Avoid common mistakes – Companies receive dozens if not hundreds of résumés, and most HR reps will find any excuse to throw yours out if it means less work for them. To help your résumé avoid the fate of becoming a makeshift trash-basketball, keep it to one page and be sure to check it for typos, punctuation, etc.

Education – Since recent graduates don't have much work experience, tout your educational highlights. Include your university, major(s), minor(s), honors, extracurriculars, and GPA. Include high school info only as long as you don't have much work experience to discuss—generally, no one will know it so it's not always worth the space.

Work experience – List all prior jobs and internships, including the dates you worked there and your position. As you describe your experience, make sure you stress skills that are relevant to the job you're applying for.

Interests – Include any additional skills (but be sure you can back them up), interests, and hobbies. Hopefully, there is an interest or unique skill that you and your interview can bond over in the interview.

Format – You'd be surprised how much formatting counts. Do yourself a favor and don't start a résumé from scratch. Download a template from the Internet or get one from a friend.
The key that opens the door to our first job is our résumé. Think of them as codpieces or breast implants for jobseekers—they're the first thing an employer notices, they should be slightly embellished while maintaining a semblance of reality, and they should take a fair amount of adjusting to feel comfortable
. Since everyone has different strengths, work histories, and objectives, no two résumés should be the same. Furthermore, customization is essential for each position you apply for.
As a recent grads, there is likely one glaring hole on your résumés, and that's work experience. But even if you spent the bulk of your summers consuming as many Jagerbombs as possible—instead of filing papers at Merrill Lynch—you can still make your résumé stand out by highlighting your other strengths and stressing the traits that you know (from your research) the employer values. (To get started, always re-read the job description and check out our list of traits to stress by industry.)
Companies receive dozens of résumés every month (or in Google's case, every 15 seconds), and hiring managers are looking for any excuse to toss some out and head to lunch. By not making common mistakes like misspelling words, including multiple pages, or formatting like a failed art school student, you won't give them that opportunity. The résumés that jump out—and avoid the wastebasket—are clear, attractive, and above all, professional.
There are thousands of résumé guides out there, each of which has its merits and failures. To help you wade through the sea of advice, we've combined the best tips we could find with some wise words from hiring coordinators to create the über-guide to post-graduate résumé writing. As you read, you can start to fill out the résumé template provided here. Before you start sending it to companies, send your résumé to friends, family, your college's career service office, and anyone else who might be able to offer feedback and catch typos.
Résumé Contents
Name and Contact Info
Unless your name is Jeffrey Dahmer, your name should be big, bold, and right at the top of your résumé. Follow this up with your address, phone number, e-mail address, and if applicable, Web portfolio. Make sure that the email address you provide is both professional and permanent—don't use your "BigJohnson12" AOL account from back in the day, and don't provide a work or .edu address that may soon expire. The same goes for phone numbers—it's probably best to provide your cell phone number rather than your grandma's house. Just make sure you change your voice mail recording so it no longer says, "Wazzzzzzuppppp muthafuckaaaaaa! Hallelujah holler back."
Objective
The objective lets the person reading the résumé know why we've bothered sending it to them. A few items not to list here: "making cash-money", "get my parents off my back", "prove to my ex that I'm not an immature chachbag." This section should be brief, and is not always necessary if your résumé is accompanied by a cover letter.
Education
This is probably my favorite section in the résumé. Because I'm a pretentious bastard, my résumé mentions that my alma mater—the University of California at Berkeley—is the "top public university in the country." I know, it's a risky strategy, but never has a fellow Cal alum interviewing me not given me the job.
As recent grads, this will more than likely be the strongest portion of our résumé. Your university, majors, minors, and honors should all be included in this section. You can include only the GPA in your major if it is much better than your overall GPA, but be prepared to answer any questions about your academic record in an interview. High school info and prestigious honors (valedictorian, National Merit Scholar, etc.) can be included for now, but they should be removed if you have enough work experience to take its place.
Be sure to include a GPA. Even if it's less than stellar, not including a GPA leads a hirer to assume it was a train wreck. A simple way to bump up a GPA is by listing your "GPA within major," since most of us did better in the classes that applied to our future. If you get asked about your overall GPA in the interview, you will have a better opportunity to explain why it might be a bit lower. (Maybe you had to work two jobs during the spring semester and your grades suffered, for example.)
A simple way to beef up your education section is by including associations and extracurricular activities you were involved with. These should ideally relate directly to your field—absolutely no Dungeons & Dragons references—and only include groups with which you held a title-worthy position. Even if it's something lame like Deputy-vice-secretary-elect, it proves you did more than attend a single informational meeting.
Relevant Courses
These are just the courses that are directly relevant to the position for which you're applying. The banker interviewing you couldn't care less about the geology class you took sophomore year. That macro-economics seminar led by an ex-Secretary of the Treasury is pretty impressive though. (Just beware that any course you list can come up in discussion, so hopefully you actually attended some classes.)
Remove "Relevant Courses" once you've been out of college a couple of years and have a solid amount of work experience. Those courses aren't as relevant anymore.
Work (and Volunteer) Experience
Employers care more about your experience than anything else, but unfortunately at this point you probably don't have a lot to show them. Let them know where you've worked, for how long, and what you did. Keep descriptions succinct, and sprinkle in action verbs liked "developed," "created," and "vaporized."
Recent grads are often sorely lacking in the "Work Experience" category. If this is the case for you, emphasize your skills in other ways. Maybe you led a team on a semester-long project or organized a charity race in your town. Don't think that you can't mention something from school or activities you have done in the past. The bottom line is that you are trying to sell yourself as trustworthy and capable—if a job or internship can't speak for you, that doesn't mean your relevant talents shouldn't be noted.
A common mistake is listing every job you've ever had. Only list the three or four most recent (and relevant) jobs you've had, whether they were full-time, internships, or volunteer work. When listing your responsibilities and accomplishments at these jobs, only the relevant aspects should be included—customize as you see fit for different positions. Listing experience working on a team project, or displaying attention to detail reveals exactly how the job or skills were relevant. Check out these additional tips to keep in mind, including keeping responsibility descriptions succinct and listing jobs with well-known firms first.
As with the rest of your résumé, it's never appropriate to lie or exaggerate in the work experience section. Even if you're diabolical enough to get away with it initially, eventually it will come back to bite you.
Interests & Other
This is your chance to list any skills, talents or hobbies that reveal something unique about yourself that can potentially set you apart. Furthermore, a quick listing of hobbies like cycling, rock climbing, and crossword puzzles opens the possibility of finding something over which to bond with your interviewer. In addition, a Trivial Pursuit tournament win or art competition victory serves to set you apart from the one-dimensional drones competing for the job.
The Final Touches
Unless graphic design is essential to the job you're applying for, having a slick looking résumé is not going to help you, and it certainly won't gloss over a lack of relevant experience or skills. That said, fonts and formatting should be kept clean, simple, and straightforward. Sticking to two fonts at most, avoiding underlines, and using bold and italics sparingly are just a few of the formatting aspects to keep in mind. God help you if you include exclamation points.
Once your résumé is perfected, print it on quality paper, with a heavier weight than standard. It may seem like a little thing, but the right paper can give the person looking at it a good "feel" for us. And finally, if you need to mail your résumé, splurge for the large envelope, and avoid folding it.
These days you'll generally be e-mailing it or uploading it to a job database. When naming your résumé and cover letter files, make sure they are distinctive. Recruiters get hundreds of documents titled "resume08.doc" or "myresume.pdf"—make it easier for them to find your information later by saying who you are in the filename (e.g., "Joe_Public_Resume.pdf"). You will be more searchable and your name will be more memorable. The same applies to cover letters.
Proofread. Proofread. Proofread.
The administrative staffing service Office Team reports that 47% of executives said they would throw out a candidate's résumé for just one typo. This statistic might strike you as absurd. What if you're Bobby Fischer, the smartest dude in the world? Should a typo really be that big a deal? But you've got to think of it from the other side of the esplanade: HR departments have to wade through a huge amount of résumés, so separating out the typo offenders is a quick sorting device to make their job easier. Furthermore, a typo on a one page document does not really scream "detail-oriented" or "professional," which are two qualities that you should be shouting about. Basically, don't give a potential employer an excuse to not consider you.
Curriculum Vitae
What if your asked for a CV instead of a résumé? You wouldn't be alone in thinking that this is just a fancy way of saying résumé. But the reality is that CVs and résumés are quite different documents. Whereas a résumé is a sort of "highlight" reel of educational background and relevant experience/skills, CVs are the uncut version: They detail your entire educational background and list every single job—dating back to your high school camp counseling days—in chronological order with a description of job duties. They are presented in paragraph form. And they includes "vital statistics" like date of birth, nationality, and even height and weight.
It Ain't Over Yet…
Don't forget your cover letter! It should read like the icing on a well-baked résumé. Check out our guide to Composing the Perfect Cover Letter.