Online Dating
•
COMMENTS

(1)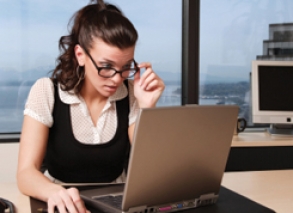 Like a hornier microcosm of America, the college dating scene (a.k.a free market of love) granted us access to endless venues for meeting great mates—or hot hook-ups. Ready-made social situations—and sometimes substances—lowered our inhibition and allowed us to experiment with new people and possibilities
.
After graduation, however, many recent grads find that their love lives suddenly stage a coup d'état and turn into communist Cuba. No more instant hook-ups at drunken parties, or Biology presentations with the hot guys your profs chose for you. These days, our windows of social time are smaller, our competition is much more sophisticated, and the meet-and-greet venues are mostly "professional" in nature.
Luckily, there are still many ways to find love, or just some good lovin'. I've focused on the trendiest and most convenient option—online dating. But for the traditionalists out there (read: those who aren't yet prepared to find love online), we've still got a couple offline tricks up our sleeves.
Let's start with some pointers that don't require any HTML code:
Join an organization that caters to your interests. University Clubs, running teams, cooking classes, etc.—pursuing a hobby can also frequently mean finding a person who's easy to talk to and whom you have something in common with.
Don't bring a 'guest' to a wedding. You're dressed to the nines and crammed into a nice reception hall with free food, booze, and cheesy wedding music. 'Nuff said.
Spread a rumor…about yourself. Let friends know about searches for love—or even lust. They'll keep an eye out for a sexy single someone in their lives—and help you eliminate the crazies, too. Getting set up with their new friends from work is often the key to breaking out of the college dating scene.
eLove
Conventional methods still not working? Time to open up a new browser window. No, not for that! I'm talking about online dating. Slowly but surely, this once taboo dating method has become one of the most common ways to connect, and there are plenty of sites that offer the chance to meet someone cool. In fact, you'd probably be surprised at just how easy these sites make it for you to weed out the psychos without first having to buy them a beer.
Normal, fabulous people do the online dating thing, and they do it with a clear and discerning head. And since you're all fabulous enough to be reading this, here's a cyber-dating breakdown rating some of the big kahunas:
Match.com
Price range: $16.99 – $43.99 per month
Who it's for: Someone looking to find a date
The Lowdown: This hugely popular website promises to give new subscribers six months free if you don't find someone special in your first six months as a subscriber.
Match also offers MindFindBind with Dr. Phil. Though it may initially sound like an acid trip gone horribly wrong, this premium service is actually a personality and behavior questionnaire that, with the help of the shiny-headed shrink with the 'stache, helps you discover who you really are so you can make healthier dating choices. It will, however, set you back a good extra $7 to $9 per month depending on the subscription, and it's geared more toward those looking to do the aisle walk. (Check out these Confessions of a Match.com User).
eHarmony.com
Price range: $20.95 – $59.95 per month
Who it's for: Great for marriage, bad for swingers
The Lowdown: Speaking of aisle walks…(cue the "This Will Be (An Everlasting Love)" theme music). If you're truly in a marriage state of mind, taking the advice of that benign, bespectacled psychologist on TV may not be a bad idea. Word of warning, though—see the subscription prices above. Still, it's free to create a profile, take the personality questionnaire, and receive matches.
Cupid.com
Price range: $16.99 per month – $99.95 for one year, or FREE memberships with limited features
Who it's for: Great all around, especially for the cash-strapped
The Lowdown: I've got to admit, I'm a little partial because I met my future husband on this site. But at least you've got proof that it works! While you can't initiate e-mail contact with people using the free membership, you can send "Eye Contacts" which, at least in my case, proved to work just as well. Cupid also feature sub-sites based on your geographical locations for easier searching.
The Wider Web of Love
If you can afford paid subscriptions with monster dating sites, then great. But if you're too strapped to shell out cash for love (come on, you know what I mean!), try these little cheats:
Milk a free online dating profile for all it's worth. Slip an Instant Messenger screen name into the body of the profile, or by make it the profile name. That's actually how I managed to skirt the $29.95 per month needed to send e-mails to people on Cupid.com.
Keep the college connection alive. There are a number of free online dating services that help you get a little more out of your college experience. StudentLove is a free dating site that requires an .edu e-mail address to sign up. Alumni Planet lets you date, blog, and network for jobs all in the same place, and apparently all for free. Good Genes hooks you up with others who've attended your alma mater for a fraction of the cost of the bigger guys—$10 per month, $60 for six months, or $110 for one year. This site tends to mostly attract grads who've been out of school for at least five years, but membership among fresh grads is very solid as well, according to office manager Therese York.
The "other" category. Want to connect with someone you're attracted to, then systematically stalk them when things don't work out? We frown upon the latter, but sites like MySpace and Facebook definitely make it possible. Broker than a box of rocks? Search the hotties for free at Plenty of Fish. Ready for the easiest one-night stands in the world? Meet Adult Friend Finder. Replace "Friend" with another word starting with "F" and you get the picture. AFF gives you your pick of anyone between the ages of 18 and 35 and what they're into, including: group sex, bondage and discipline, cross-dressing, voyeurism, S&M, and lots of other "alternative activities." Same for the more honestly named HornyMatches.com, as well as Craigslist's more euphemistic "Casual Encounters" section. Looks like somebody needs a spanking.
Still not feeling the online thing? Plenty of companies do the work of setting up dates for you. Speed dating, a practice where people meet and talk individually for a set time limit (and wide-ranging fee) to determine whom they'd like to spend more time with, is becoming very popular. It's Just Lunch is one of the up-and-coming examples.
Good luck!