How to Dress for an Interview
•
COMMENTS

(0)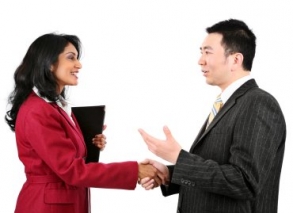 Quick Tips
Industry standards – There is no "golden rule" of interview attire because dress standards vary across different industries and offices. Finance is generally conservative, while fashion PR might require something more than J. Crew. Having a sense of your target industry's standards is a good starting point.

Call ahead – If you don't have an inside source at the company, what better way to find out the dress standards than to call and ask? Without giving your name, you can call HR or the receptionist and say that you have a meeting and wanted to make sure you dressed appropriately. If you're a wuss, have a friend do it for you.

Err conservative – Actually, we lied—there is a golden rule: take what you know about the standards at the place you're interviewing, then dress a little bit more conservatively. You don't want to be on the lower end of the spectrum.

Give yourself a confidence boost – Laying out just the right outfit or wearing your lucky tie can make you feel better prepared when you enter the interview. There's no need to hit the tanning salon, but remember that we're all humans and looking your best is all part of the mythical "first impression."

Grooming, etc. – Don't forget about other aspects of your appearance, such as a facial hair, jewelry, tattoos, etc. Remember that the goal to appear professional and serious about the position.
In this day and age, it's possible to conduct the majority of your job hunt from the comforts of your bedroom, drinking a highball in your underwear while you type the sentence, "I am an extremely motivated and professional individual." Sure, you may have a few networking meetings
over coffee, but in general you can basically get away with murder on the hygiene and appearance front. Then it happens—you actually land an interview and the question of what to wear hits you like a ton of bricks.
Like it or not, what you wear to your interview does make a difference. Ours is a superficial society that privileges the importance of "making the effort," so go into any interview with the notion that you are what you wear, even if you don't agree with it. A job interview isn't a fashion statement, but it is a statement about you and how you see yourself. So, how do you see yourself? Follow these tips to make sure you don't lose a job over a wardrobe faux pas.
Think About Industry Standards
It may be a relief to some that you don't always need to wear a suit to an interview. It's true: it depends on the company and the job for which you're interviewing. For some industries, such as sales, you should definitely wear a suit to the interview because let's face it—would you take a sales guy seriously if he wore jeans, flip flops, and a baseball hat? Probably not. Think about it from the interviewer's point of view: she is assessing how you may present yourself in front of clients. Same goes for industries like hospitality where you'll constantly be in the public eye and finance just because it's a conservative industry. For other types of industries, such as IT or publishing, you might consider toning it down a notch with business casual (see below). These generalizations are useful if you are going in blind, but your best bet is to do some research about the standards of the specific company where you're interviewing.
Operation: Office Attire
How will you know whether the company is conservative, informal, or somewhere in between? According to this Monster.com article, you should look to the company's culture to see what attire is appropriate and then dress "somewhat dressier than what the employees wear to work." So if you met with someone from a company who was wearing a blazer, jeans, and shoes, then you might step it up to slacks and a nice shirt. If you have no idea, ask HR (or the receptionist) about the office dress code or how the staff dresses, saying you're meeting with someone that day and want to make sure you're dressed appropriately (you don't have to tell them who you are). If that idea freaks you out too much, have a friend call. Finally, ask others in the same profession what they wore to their interviews or what they'd expect job applicants to wear in their line of work. The point is, you can never really go wrong by erring on the conservative side, but you don't want to appear completely out of touch with the company culture. So while you shouldn't wear a Hawaiian shirt to Goldman Sachs, you also shouldn't wear a three-piece suit to an interview with a young, casual startup.
Wear It Like You Mean It
The key, whether you opt for a suit or business casual, is to convey confidence, competence, and professionalism. As Virginia Tech's Career Services website so nicely puts it, "Appropriate attire supports your image as a person who takes the interview process seriously and understands the nature of the industry in which you are trying to become employed." Of course, you should strive to look your very best no matter what you wear. Take time to figure out your "interview look"—and that includes grooming (keep your facial hair clean, guys). Don't limit yourself to black suits with white blouses or collared shirts. Navy and gray suits are flattering colors that work well with accent colors, such as bright or pastel-colored collared shirts.
If you're interviewing with a range of companies in different industries, do yourself a favor by discovering a few "interview looks." It's likely that you'll have to go to more than one interview before you get a job, so settling on a few outfits that work will mean you don't have to freak out about it again. Choose wisely—not only for the impression you will leave on others, but for the confidence you will have before you even leave the house. A winning outfit is one that you feel confident in, one that is somewhat stylish (i.e., not dated), and one that screams, "I take this interview seriously enough to look professional!"
What Is Business Casual?
A brief word on one of the world's most enigmatic and oxymoronic modes of dress: business casual. Because it is so ambiguous, business casual offices can actually be a lot trickier to navigate than formal ones. If you know that the place is conservative, you might get judged on the quality of your suit or if your socks match your belt, but at least you have a general sense of what's expected. Business casual, on the other hands, could range from golf shirts to full suits with no ties. It fluctuates quite noticeably between different industries, and there are often even greater judgments drawn from business casual dress since it allows for a few flashes of individuality.
Because there's such a large gray area, the best bet is to call ahead to get a sense of what people wear (again, you don't have to say your name–just say you have a meeting and want to know the office dress) and then err on the conservative side. In most cases, that means slacks and a button up for guys, skirt and blouse for girls. No sneakers (but nice boat shoes could sometimes work). If it's not too hot, a blazer may sometimes be expected if the place is more formal. Check out these business casual dress tips for guys and girls.
Dos and Don'ts
Here are some helpful tips for making sure you show up dressed to impress.
What Not to Wear

Jeans
Flip flops or sandals
Wrinkled, stained, or damaged clothing
The price tags!
Sunglasses on your head or around your neckline
Oversized bags, such as backpacks (condense everything into a tote bad, briefcase, or portfolio)
Hats
Too much perfume or cologne (if any at all)
Earrings or makeup on men (no joke!)
Keep jewelry to a minimum (nothing too flashy or bulky)
Cover tattoos (even though they are artwork to be admired)
Your cellphone (don't wear a belt clip and make sure you turn it off or put it on silent)
Tips for Women:

No revealing or low-cut, skin-tight clothing no matter how cute!
Keep skirts around the knee (comes in handy, especially when you're sitting down),
Sandals, even your expensive Gucci sandals.
Keep the stilettos at home—pumps, though not half as cute, are always preferable.
No exposed undergarments (bra straps, thong lines, etc.).
Make sure to cover any openings between the buttons of your shirt (so that no one can see what's underneath).
Tips for Men:
Shave or if you have a beard…manscape (i.e., men's grooming).
If you're wearing a suit, keep the tie fitting with the style of the suit.
Keep shirt tucked in.
Wear a belt to match your (not too modern) shoes.
Wear socks, but not white ones; only dark ones.
Business Casual Tips:
For both men and women, business casual may mean slacks, belt, collared shirt (no tie for men), and non-matching blazer.
Women could also wear knee-length dresses that do not reveal too much skin and are not skin-tight.
Suit Tips:
Make sure it fits properly; get it altered if needed. Nothing will make you feel more uncomfortable in a suit than one that fits poorly.
Wear dark socks and a tie that's not too loud.
Don't wear a short sleeve shirt, Dwight Shrute-style.
Experiment with grey and navy suits, not just black ones.
Only wear accessories that are appropriate for suits (e.g., belts, suspenders).
Invest in good quality shoes and take care of them. Also, polish them; it's like the cherry on top of the cake.