Eating Cheap
•
COMMENTS

(2)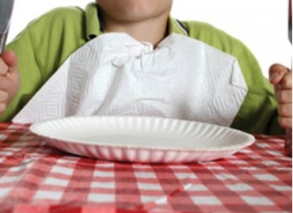 Quick Tips
Eating cheap doesn't mean Spam and Tabasco – Eating frugally isn't synonymous with eating badly; it's all about being selective with where you shop and what you buy. You can still eat well, but also save some dough and stretch out your funds while doing so.

Food co-ops – Some of the best prices on food can be found at food co-ops. They're stores where you work for a nominal number of hours per month in return for extremely cheap, fresh produce.

Shop around – Just because meat is cheaper at one supermarket doesn't mean dairy is as well, so visit a variety of stores, and pay particular attention to their coupon circulars. Also, consider shopping in bulk if you have the space.

Don't order, cook – While it takes more time to cook than order (although you can certainly whip up a meal in twenty minutes), it generally works out to be cheaper and healthier. Check out recipes at All Recipes, Epicurious, or try some of our easy and cheap recipes. And if you do cook, turn your leftovers into tomorrow's lunch.

BYOB – The best way to save when eating out is to cut back on alcohol or bring your own. Find favorite BYOB spots or new restaurants that don't have a liquor license yet.
The first real job brings the first real salary—and then, when your parents find out you actually have money, the first real bills. Rent, college loans, and gym memberships will take enormous bites from that paycheck pie, so you'll likely have to find new ways to save some scratch before the credit card bills reduce the rest to crumbs
. Eating frugally may not sound too enticing, but it's an excellent means of stretching out your funds and, more often than not, eating healthier. Don't become a slave to takeout just because there's no more dining hall and no more mom to serve dinner. Here are a few ideas for eating on the cheap:
Hunting And Gathering: Learning To Shop
My Blue Heaven excluded, you're not likely to find much romance looking for arugula (it's a ve-ge-table), but smart shopping is a great way cut costs and still eat like…well, maybe not a king, but at least a viscount or some other notable nobleman. Check out this shopping guide for big savings:
Better shop around. Just because meat is cheaper at one supermarket doesn't mean dairy, produce or vegetables are as well. Visit a variety of stores and become familiar with each one's pricing systems. Know where the sales and specials are and take advantage of them by cutting coupons as anally as our Great Aunt Sally. Some of the best prices can be found at food co-ops, a recently budding trend where you agree to work for a nominal number of hours per month in return for extremely cheap, fresh produce.
Buy in bulk. Okay, so hauling two dozen cans of tuna fish up to the cashier may seem a little déclassé, but if it's on sale, grab it. Buying a Costco card and making that monthly venture can not only save us time and money, but it's incredible how long that giant box of Cheerios will last.
Don't sneer at store brands or generic labels. Give the house mayonnaise a shot, and if it sucks, then use it for engine grease. Nothing keeps that motor running like whipped egg and oil.
Know what's in season and avoid what isn't. No point in spending extra on scrawny avocados in winter. Conversely, starchy root vegetables like yams are cheapest (and best used) in winter. Get acquainted with your local farmers market to find the best produce.
Try ordering online. Much easier than trudging down the aisle with an overloaded cart only to tear a tendon trying to bring it home, ordering groceries online means making someone else do that work for us. Resources like Fresh Direct in New York will deliver fresh cheap groceries at a reasonable price.
Specialize your shopping. More adventurous cooking often requires a trip to a specialty ethnic market. Most cities have a Chinatown, Korea Town, or Indian neighborhood (like Manhattan's Curry Hill) where we can find just the right ingredients, usually at rock-bottom prices.
Hold onto those leftovers. Retooling Monday night's meal for Wednesday's lunch can be a goldmine.
The Fridge Does More Than Store Beer: Learning To Cook
Sure, the deli around the corner from work and the neighborhood diner are as quick and convenient as the dining hall was in college, but without a meal plan or an "emergency credit card," those hoagies and grinders really add up. So, get acquainted with the kitchen – learning to cook can not only save money, but a home-cooked meal also serves as a classy aphrodisiac for your next date. Why do you think dudes who look like Mario Batali are married?
Start out by having the right tools on hand. Check out our Kitchen 101 survival guide, and save money on pots, pans and other essentials by ordering from Overstock.com or Amazon.com. Next, make sure you have a clean kitchen to work with—at the end of the day, Ratatouille is a bit realistic, and having a rat next to the stove won't make you a master chef. Once you've got these ducks in order, you can get to the "l'oranging" part. But first you need some recipes.
It's easy to get lost in the forest of cookbooks at the local bookstore, and a good one will have several shelves catering to beginners or those with modest culinary aspirations. Doris Janzen Longacre's More With Less Cookbook has been in print for over thirty years and features excellent meals using very simple and healthy ingredients. Craving more variety? Well, Jeff Smith, the self-styled Frugal Gourmet, has authored several easily mastered cookbooks, ranging from The Frugal Gourmet Cooks American to The Frugal Gourmet Cooks Three Ancient Cuisines: China, Greece, and Rome. And would-be cooks craving the quirky, offbeat (yet still cheap) should definitely seek out The Redneck Cookbook by Lo'retta Love (save room for the Chocolate Twinkie Pie).
While old-school cookbooks are cool, the Internet is probably the best source of free recipes and cooking tips, especially if you need to decipher a recipe or figure out how to make something from the random ingredients you've got sitting in the fridge. Over 40,000 recipes can be found on All Recipes (including over 200 for hamburgers and 173 for lasagna), while Cook Cheap is tailored towards novice chefs. Epicurious boasts a wide array of recipes, but is particularly helpful for the blogs and forums it offers members. Also check out the Food Network's site, but beware that any given click could yield exposure to Rachael Ray. Finally, check Gradspot for our easy, cheap Recipe of the Week and to stay on top of newfangled food site likes Supercook, which generates recipes based on the ingredients you enter.
Whichever book (or website) becomes your kitchen Bible, you'll be bringing home the bacon in more ways than one if you start consistently cooking at home rather than dining out. Taking a sandwich or a salad to work and cooking something more elaborate for dinner can save you ten to fifteen dollars a day – that adds up to somewhere between two hundred and three hundred dollars a month (enough to splurge on that python clutch or pair of vintage Jordans.)
Stepping Out Without Stepping Over: Eating Out Cheaply
Four-star gourmet dinners will obviously burn a huge hole in the pocket, but eating out is by no means prohibitively expensive. Any local publication or website that reviews restaurants will have published a recent issue or article devoted to local, affordable dining experiences, and a little research goes a long way to compiling a stable of reasonable options. CitySearch has restaurant reviews and helpful reader comments for eateries in most major American cities, while MenuPages provides up-to-date menus for spots in New York, San Francisco, Los Angeles, Philadelphia, Boston, Chicago, and DC. Visitors to ChowHound will find message boards covering the best neighborhood anything, from Ethiopian to Korean Barbecue.
But the best way by far to keep eating out cheap is to cut back on the booze or, even better, find a place that let's you bring your own. Look out for newer restaurants that haven't yet earned their liquor licenses or perennial BYOB favorites on all of the above mentioned websites.