Buying a Couch
•
COMMENTS

(0)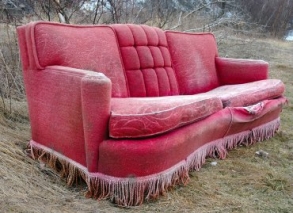 Quick Tips
Measure up – Before you even attempt to haul a huge couch into your box-sized apartment, take measurements of your place and plan out how you'll arrange your living room. It'll save you much strife; it would suck if you bought your dream sofa only to discover you can't fit it through your doorway.

Futons and loveseats and sofas, oh my! – Think about what your requirements are before you choose which couch to buy. Futons and sofa beds are great if you plan on having a lot of guests. Loveseats should be a no-brainer if you don't have a lot of space (or cash).

The price is right – Unless you're sitting on a couple thousand dollars' worth of spare change and you never plan on moving out of your place, forgo the $3000 lounge couch. You can find plenty of affordable alternatives at Ikea, Bed Bath and Beyond, Target, or Sears for less than $500. If you do plan on going all out on the couch of your dreams, check out higher-end department stores like Crate and Barrel and Room and Board.

The bargain bin – For those on a really tight budget, Craigslist and Facebook are good places to look for great deals on used couches that are still in good condition. Also, be on the lookout for sales—you can easily buy a sofa for a quarter of its retail price. The truly adventurous can always nab one off the street for free if it's not totally compromised.

Learning to let go – If your pet (or your drunk guest) concludes that your sofa makes a fun soft-n-squishy toilet, it's time to get a new one. Small stains can be taken care of with some rubbing alcohol, or you could have the whole sofa professionally cleaned if you're sentimentally attached to it. But oftentimes it's just cheaper to buy a new couch that doesn't leave occupants with bizarre rashes.
A couch is the epicenter of your new life of independence—it's where you socialize and where your friends sleep; it holds remnants of most of the meals you've ever eaten at home; and it serves as a repository for a small portion of your monthly income
. In short, it tells a story (though sometimes it's seen "too much" and the time must come to start a new chapter). Even if we dispense wit sentimentality for a moment, the fact remains that having a place for people to sit down is a pretty basic necessity—egg crates may say "urban chic," but they may also say "poor and depressing."
Thankfully, the best couches are not always accompanied by the highest price tags—like tee shirts, the cheapest, most well-worn ones are sometimes the most comfy. Still, it's important to think about your specific sofa needs (e.g., a bed for your friend to crash for the night, a place where you can hook up, a seat where you can watch bad reality TV alone), as well as how long you plan on keeping it. Whether you're buying the couch of your dreams for the long-term or you're just getting something you'll be using for one or two years and sharing with roommates, it's still an investment. Here are some things to keep in mind.
Does It Fit?
Before you trek out to Ikea, make sure you take accurate measurements of your apartment. The last thing you want is to find the perfect bargain on an enormous couch you can't fit in your living room (much less up the three flights of stairs to your apartment). In addition, you'll want to plan the layout of your living room beforehand to avoid purchasing a couch that extends halfway across the entrance to your bathroom. If after you've taken measurements and planned out your pad you find that any couch would be too big, then maybe getting a loveseat would make more sense. To make planning easier, check out this nifty Arrange-a-Room tool that allows you to forecast how things will fit into place in your living room.
Which Should You Buy?
Couches come in many different shapes, sizes, and fabrics. If you plan to have guests over often, the "social" sofas—futons and pullout couches—are always a favorite, but there are plenty of options to choose from. Here are the major players.
Futons and Pull-Outs. This upholstered number from Target is a great example of a typical futon you can find at the average price. Most futons from large department stores like Target and Sears will cost between $300-$600, but check for sales and you can easily find something on the lower end of those figures. If that range is out of your reach, you can get a number of decent futons from Ikea or Bed Bath and Beyond for under $200 (check out this one).
Sofa Beds/Pullout Couches. If a futon reminds you too much of a college dorm, then a sofa bed is an excellent alternative. Combining a regular couch with a pullout mattress, sofa-beds are really the best of both worlds. They run a little more expensive than futons—between $400-$700 at large department stores (although sofa beds on sale go for half as much)—but they're much more comfortable to sleep on.
Loveseats. If you live in an apartment that can pass for a closet, loveseats will always run cheaper (less that $100 at Target, Sears, and Ikea), so they're worth looking at. For something slightly pricier, you can also check out these options from Overstock.com.
Regardless of which couch you choose to buy, you're going to want to get one that doesn't stain easily and that can be cleaned without much hassle. A linen sofa looks beautiful…until your drunken roommate spills his MGD on it. Forget for now why you even allowed such awful beer into your apartment and avoid the cleaning bill by opting for leather, Ultrasuede, or other "high performance" fabrics. Also, look for a hardwood frame, such as maple or oak, and steer clear of particle board—it's cheaper than plywood but that's because it'll snap in half when overburdened by…well, whatever it is you get up to on the couch.
Where to Get It
Penny-pinching grads take heart—it's possible to find a couch out on the sidewalk if you decide to roam the streets during Spring cleaning; however, a couch that you find for $0 may be more than "gently used." At the other extreme, you could go all-out and spend thousands of dollars on a beautiful sofa such as this one from Room and Board, but rarely will recent grads have that kind of spending money right out of college.
Cheap and Cheerful
More affordable deals can be found at the Salvation Army, and grandma's house is always an option if you're not proud. Online stores like Overstock.com and Amazon.com are also good options. Don't be afraid to scrounge around Craigslist or Facebook, too—you can find great deals on used couches that are usually in solid condition. Many universities also have their own online marketplace where students sell old furniture, so if you're staying in the same city as your alma mater you might want to check it out.
Mid-Range
If your heart is really set on a couch in the four-digit range, take note that Ikea will always sell knockoffs of the Marie Antoinette's Boudoir collection for a quarter of the cost. Keep in mind though, this furniture is cheap for a reason, and it will not likely last more than five years. If you don't plan to stay in your apartment for longer than that, then go for it. The point is to think about what kind of an investment you want to make based on your budget. Ikea, Target, and Bed Bath and Beyond are all good places to hit up for mid-range priced couches.
High-End
For a long-term investment, you can get higher-end couches ($700–$3000) at large department stores such as Crate and Barrel (also check out CB2) and Room and Board. Cheap they are not, but these sofas look nicer and last longer than their mid-range counterparts. You certainly get what you pay for.
A Note on Furniture Sharing: If you're living with roommates, consider splitting the cost of the couch (although that might get tricky if on the day you move out you discover you own one-third of the futon). You could set up some sort of agreement in which the person who keeps the couch ends up reimbursing the roommates once they leave. Alternatively, one person could pay for the majority of the couch, and the roommates cover the rest of it to account for their usage and general wear-and-tear. In short: you don't have to spend a fortune to be able to relax comfortably.
Couch Cleaning
If you don't want your couch to scare away potential hook-ups, you might consider cleaning it occasionally. This process usually involves applying rubbing alcohol to any stains, dry-cleaning the cushions, and Febreezing the hell out of the whole thing (also sprinkle any "dirty" spots with holy water). How to Clean Stuff has tips on cleaning futon covers and suede or leather couches. If you're too lazy to do it yourself, you could have the couch professionally cleaned. Both options are expensive though, so decide whether it's worth it to purge a soiled sofa or to just get a new one. Check out Manhattan Carpet Cleaners if you're in New York, or just look in your local yellow pages for pros.
When to Get Rid of It
No matter how many warm, fuzzy memories you may have about your treasured wine-stained sofa that smells of beer farts (how did that happen!?), the truth is that nothing lasts forever. There will come a time when your couch becomes "compromised" beyond repair. It may come when your best friend passes out on it naked, it may come when ma' and pa' come over to visit and decide to bring back that lovin' feeling on your loveseat, but at some point your couch has got to go (pets also tend to cut the average lifespan of a sofa in half, so keep that in mind if your cat or pup lives with you). The good news is that since most cheap couches last about five years, that gives them time to accumulate enough change that you can pick from behind the cushions and use to buy a new (maybe better!) couch. Read our article Sell, Trash, Store for tips on dumping an unwanted couch.