Top 10 Cities for Recent Grads
COMMENTS

(14)

FILED UNDER:
#2: SAN FRANCISCO (pop. 808,976)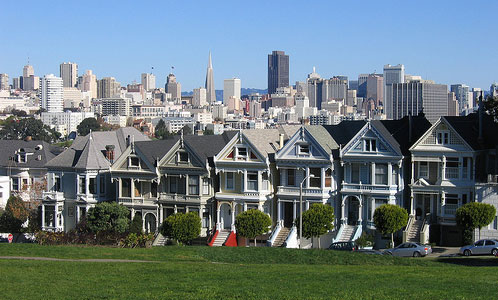 [Photo by iamgenious]
Situated in the beautiful Bay Area, San Fran has a "best of all worlds" vibe that attracts recent grads in droves. Whether running along the waterfront or taking a bike ride across the Golden Gate Bridge, San Franciscans enjoy their city and its outskirts year 'round. Meanwhile, a thriving arts scene, diverse population, and distinct neighborhoods keep things interesting. The prominence of tech and web companies in town and in nearby Silicon Valley contributes to the youthfulness of the city, but be prepared to fork over a pretty penny to live in California's most expensive city for renters.
KEY STATS
Major Industries: Technology (from computers to health), venture capital
Climate: Four seasons but not too extreme in summer or winter (Winter—48°F, Summer—64°F)
Transportation: BART connects San Francisco with Oakland and Berkley, and a MUNI subway line runs in the city. Not all parts of the peninsula are close to public transportation, but it's pretty small and getting around with buses and cabs avoids the terror of parallel parking on steep hills.
Avg. Price of a One Bedroom Apartment: $1,512*
Cost of Living Index Value: 187**
Closing Time: 2AM
Professional Sports: MLB—Athletics, Giants; NFL—49ers, Raiders; NBA—Warriors; NHL—Sharks
Famous Foodstuffs: Seafood from Pier 39 and Mexican in the Mission
You'll love it if… you've got an "alternative" streak that you want to foster in a city that embraces difference
You'll be miserable if… you're a backwards Republican who despises homeless people, gays, and immigrants
Best Thing Ever: A highly amusing assortment of crazy people
Worst Thing Ever: Walking/biking up hills
TESTIMONIALS
SF is great because it's got plenty going on without being as in-your-face as New York. There's loads of big street festivals, amazing parks to barbecue in, beaches, and easy access to Tahoe, Vegas, and wine country. There's also a pretty rich bar scene, and really, really good food everywhere. The only downside is that the population tends to be a bit older and it can be hard to find enough eligible people to date who are just out of college. — Sebastian T., Google
Not only does its misty mountainous terrain make it resemble a postcollegiate fairy-tale land, but SF has a distinct charm about it which makes it a great place to nest after graduating. With tons of restaurants and bars, it is a great going-out city, but it's also got the cultural cachet to back up its laid-back California vibe. — Trevor W., Facebook sales
Gradspot.com Rating: 92/100
(continued on next page)