Apartment Hunting 101
COMMENTS

(0)

FILED UNDER: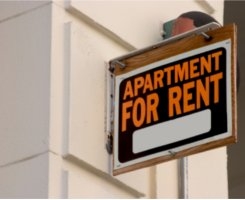 Welcome to the real world, recent grad. If you just graduated last June, chances are now's the time you're frantically searching for an apartment—one of the most stressful and overwhelming challenges
you may face as a newly minted grad.
No worries, Gradspot is here to guide you through your first foray into life after college. Before you definitively kiss mom and dad goodbye and move into your own "apartamento de sweetness," check out these tips and survival guides for making the transition as smooth as possible.
Picking a City and Getting There
Presumably, you've already done this, but pick the city that makes the most sense for you, not just the place where all your friends are. They might follow their dream to another metropolis leaving you in a city you never wanted to live in.
Things to consider when choosing a city are cost of living, transportation options, weather, demographics, culture, the bar scene, and probably most important: job opportunities. If you plan on moving, decide whether you want to move by yourself or hire a professional to haul your stuff for you.
Moving Resources: Deciding Where to Live, Moving without a Mover, and Hiring a Professional Mover.
The Roommate Question
This usually boils down to finances. Can you afford to live somewhere without splitting the rent with someone else? If not, you need a living buddy. But be careful – best friends don't make best roommates. Read our survival guide for the lowdown on sharing spaces and use Gradspot.com's Facebook Roommate Finder to search for others in your area seeking a roomie.
Roommate Resources: Roommate Finder, Roommate Living, and How to Expose your Roommate.
Preparing the Necessary Pre-Apartment Paperwork
Once you know where you want to go and who to live with, you should prepare all the necessary paperwork beforehand—it will position you to nab that dream apartment/house you want to rent and save you a ton of frustration in the long run. Most landlords require:
a photo ID
a letter of employment
your last 2 pay stubs
a copy of last year's tax return
most recent bank statement
letters of recommendation
rental application (provided on the spot)
a blank check to pay the deposit
It's also crucial to have a guarantor – someone who agrees to cover the rent if you default (i.e. mom) – lined up. Have all of these ready when you start hunting and you'll be golden.
Documents resource: Pre Apartment Search Documents
Continued on the next page...