White Bean Salad
COMMENTS

(0)

FILED UNDER: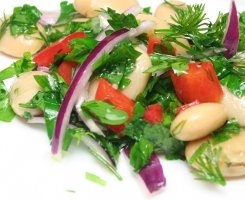 In the heat of summer, a good salad makes an excellent meal. When it's this hot, your appetite can't handle Chipotle every day like it did in those "storing up for winter" days of late fall. Personally, I like a bean salad. Why? Because you still get protein but you don't have to futz around with cooking anything. Add arugula and some red onion, and you're in business! It only takes three ingredients and five minutes to whip up a tasty light meal or premier league side for any grilled meat.
You need:
* 1 can cannoli beans
* 1/2 a red onion
* Arugula
* Garlic
* Olive oil
* Salt and pepper
* Balsamic Vinegar
Drain the can of beans and place in large bowl. Then dice the red onion. Toss with beans, add the greens. Season to taste with salt, pepper, oil, vinegar. It's also nice to squeeze a lime on. Crushed garlic is also an option, and one I usually choose. If you've got a tomato on hand, feel free to bung that in there as well.