What Are the Most Depressing Jobs
COMMENTS

(0)

FILED UNDER: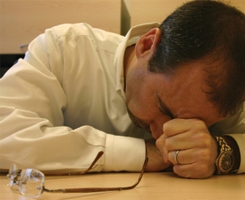 If you're suffering from a particularly bad case of the "Mondays," you could be falling victim to America's most subtle predator: Seasonal Affective Disorder, otherwise known as SAD. When the weather changes suddenly, people get colds, but they also get depressed. Leaving work under the cloak of cold darkness is bound to get you a bit down.
But what if you live in a permanently temperate climate, or "the Mondays" are more like the "Every Days"? It could be your job (or lack thereof) that's doing the damage. This study published by the National Survey on Drug Use and Health (NSDUH) ranks the most depressing occupations in America (or at least the occupations where full-time workers experience the most common bouts of depression). I don't want to bring the mood down by forcing you to read "a study," so here's a rundown:
Between 2004 and 2006, an annual average of 7% of full-time workers between 18 and 64 experienced a major depressive episode.
For men, the highest rates of major depressive episodes were in the arts, design, entertainment, sports, and media occupations.
Women suffered more than men.
Overall rates of depression are higher for part-time workers and the unemployed than for full-time employees.
The occupational categories with the lowest rates were engineering, architecture, and surveying (4.3 percent); life, physical, and social science (4.4 percent); and installation, maintenance, and repair (4.4 percent).
For our age group, sales and management ranked higher (i.e. more depressing) than they did on the overall average.
None of this is that surprising, nor is it that depressing. The unfortunate fact is that some people are going to get depressed no matter what they do, and at least we don't live in Japan, where job-induced depression is a national crisis. Another factor to consider is that early-career depression is often rooted in general life uncertainty rather than the quality of the actual job. Questions like, "Is this the rest of my life? Should I be doing something else? And, why do I only have one week of vacation?" can put a dark cloud over any gig.
The trick is to try to separate out those feelings from the ones that are specific to the job. Instead of worrying about the "Mondays," which are as common as an October cold, see if you are a victim of the "Sunday Scaries." I learned this term from my lady friend and her chums, and while I definitely don't suggest employing it in conversation, the concept is useful—if you can't enjoy Sunday because you are so consumed with dread for the coming work week, you might want to consider a change of job. Again, evaluate the source of your feelings. If you are worried about a pending STD test, "the scaries" might not have anything to do with Sunday or your job. That's something else entirely.