Welcome to Gradspot!
COMMENTS

(0)

FILED UNDER: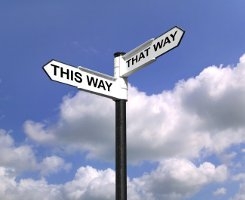 Labor Day Weekend is finally here, and if you're a member of the Class of 2008, you may notice a subconscious twinge of terror induced by the word "labor." No, not because of what you did nine months ago around New Year's (hopefully), but because you're probably beginning to wonder how much longer you can chill at Chez Mom and Dad sans a job. Or you've started working and you can't believe you're this excited to have a day off.
Wherever you're at along the post-college road, Gradspot is here to make the transition to the "real world" a little easier—not just in terms of getting jobs and keeping them, but also all the other stuff that comes with being a twentysomething: leasing apartments, dealing with personal finances, adapting to a new social scene, and much more. If you're joining us for the first time, take a little tour de website to see how Gradspot can best help you:
Finally, be sure to check out our book The Gradspot.com Guide to Life After College, a great starting point for anyone new to the game. Download a free e-book or cop it on Amazon.
Good luck, and remember: the best four years of your life are NOT over!
The Gradspot Team