Want Your Debt Forgiven? Follow Your Dreams
COMMENTS

(0)

FILED UNDER: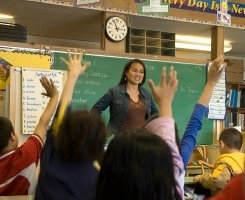 It's one of the most common sources of consternation for recent grads starting their working lives: they know what jobs they want, but the burden of $20k+ creates pressure to shoot for a higher paying opportunity they're less passionate about. Hence, the tragic case of the aspiring inner city teacher who has to become an investment banker to make ends meet. (Ok, so maybe this case is not as common as people would make it seem, but you get the point.)
But new student debt forgiveness rules—Income-Based Repayment (IBR) and Public Service Loan Forgiveness (PSLF)—are designed to rectify this situation and encourage careers in public service. Moreover, the new standards may even help people who draw a low income but don't work in the public sector. As CNN Money explains:
Under certain circumstances, the federal government will reduce payments, and ultimately forgive all or part of an educational loan for those who choose a career in the military, volunteering, teaching or practicing law or medicine in low-income communities. And some may even be able to reduce their payments, based solely on their income and family size.
If you think you might be eligible for Income-Based Repayment (IBR), be sure to check out Ibrinfo.org, a great independent resource about federal student loan payment and forgiveness. The program begins July 1, 2009, and it helps borrowers keep their federal student payments under control with monthly payment caps based on income and family size. It's important to note that this is different from the Income Contingent Consolidation. This form of consolidation basically allows you to defer the bulk of your payments until you start making more money down the line, whereas the new Income-Based Repayment scheme actually includes forgiveness of a portion of your debt.
As always, the rules for who applies are somewhat convoluted, but a good rule of thumb is that if you make less than you owe each month, you definitely apply. Otherwise, use the IBR calculator to determine your eligibility.
The second program is Public Service Loan Forgiveness, which began in July 2008. IBRinfo.org explains that "if you're a teacher or work in government or at a nonprofit (501(c)(3)) organization, you might qualify for a new type of public service loan forgiveness after 10 years of eligible payments and employment." This extends the reach of prior forgiveness programs.
Needless to say, both of these programs come with all sort of fine print, so be sure to do your research. To apply for either the PSLF or IBR, call the US Department of Education at 1-800-557-7392.
With the private sector getting hit hardest by the current economic crisis, student debt forgiveness may just be another perk to a rewarding career in public service.