Viva Mi Revolucion
COMMENTS

(0)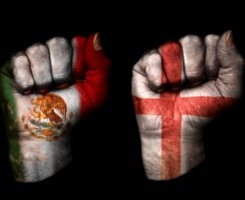 After a quiet couple of weeks I have been back rapping daily with my pen, scripting my 7 Day Theories like Makaveli out the pen. As usual I have got a lot 2Pac into The Tao of Teaching and even more that spills over into the letters that are Strictly 4 My H.O.M.I.E.Z, so it's All Eyez On Me until the 2Pacalypse (2012 by Mayan reckoning) as I present to you The Prose That Grew From Concrete...Still I Rise...
Hmmm, sorry about all that, I am just excited because I found out we have a listening unit about Tupac and rap music so I'm looking forward to teaching that class.
This isn't all as irrelevant as it might seem, in fact it is pertinent. Latin America (Peru to be precise) is home to a group of revolutionary freedom fighters called the Tupac Amarus, the group is named after the last native Inca King. What has all this got to do with the price of tortillas you might well ask? Well, that is kind of what I am doing here - if not exactly fighting for my freedom and independence I have certainly set out to explore the outer bounds of it.
Yes, I am here to start a revolution in Latin America, but don't worry The C.I.A., this is a personal revolution!
Leaving home with little money or possessions has certainly been a most liberating process. As the world turns I live for the moment, with no constants but change itself I am completely alienated from what I know as I follow my own destiny. I have changed my polarity and revolutionised my life.
I have come to the right place, San Luis Potosi has a history of revolution. Revolutionary leader Francisco Indalécio Madero (1873–1913) escaped from a prison in SLP after his arrest in 1910. He then issued the Plan of San Luis on October 5th, which encouraged Mexicans to take up arms against the government and marked the beginning of the Mexican Revolution (1910–1920).
A revolution is a completion of a cycle, or circle. After spending 2 lunar cycles here so far I am definitely more "well rounded" as the saying goes. All cycles interact and I feel incredibly well balanced in my life cycle as I rise with the Sun each day to help build knowledge and understanding. Perhaps that is why riding a bike is so good for the soul?
I will leave you with the wise words of The RZA as he speaks on revolution...and just for jokz the slightly less wise words of The PZA - Alan Partridge - as he lunches with Tony Hayers...
Until next time...Hola if ya hear me...
Positive Energy Activates Constant Elevation
Tom Wiseman hails from Oxford—the area, not the University—and is spending the year teaching English in San Luis Potosi, Mexico. His blog, "The Tao of Teaching," appears regularly on Gradspot.com.