Useful Web Tools for Recent Grads
COMMENTS

(1)

FILED UNDER: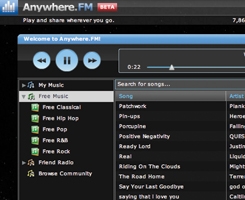 Q: What are some useful web tools for a recent grad? –Allen Sibley, Chicago
A: Think of the web as your own personal information storage center. No matter where you are—at home, work, a friend's, on a trip—all of your digital assets can be at your finger tips, ready to keep you productive or merely entertained. Sure, "digital assets" sounds a bit geeky, but consider what they include: your music, calendars, photos, and more. I'll focus on three sites that stand out from the pack.
Anywhere.FM
Churning out TPS reports all day long is fun, but churning out TPS reports while listening to your tunes is even "funner." Anywhere.FM lets you upload all of your MP3s to its site, and then access and play them directly from the web, anywhere you want (free for the time being). This is particularly helpful for iPod-free workplaces.
Google Calendar
Now that there are things in life more important than rolling out of bed at noon–like business meetings or dates–a calendar becomes a necessity. Google Calendar lets you input your appointments into your own calendar and access it from anywhere. You can even share your calendar with others, like that special someone to make arranging dinner plans a breeze (cue the collective "awwwwww").
Del.icio.us
You know when you're at work? And you're trying to browse over to your favorite prn site? But you just can't remember the right URL? Enter Del.icio.us. Okay, Del.icio.us isn't for porn, it's for bookmarking. Whenever you're on a site you like, just add it to your Del.icio.us account, which is accessible from any computer. Now when you're stuck at work with nothing to do, you can find all of those sites that you kill time with at home (although we highly suggest you don't surf over to the prn).
Moral of the story? There are a lot of cool tools on the web, and it's worth geeking out with them. If you use one that we haven't listed, share it with the rest of the Gradspot.com community in the comments below.
Got a question for the Gradspot.com team? Email it to answers@gradspot.com and then keep an eye out for an answer right here.