The Unofficial Guide to the DMV
COMMENTS

(0)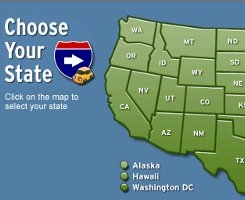 Whether you're getting a car after graduation, selling one before moving cities, or are just a really precocious 16-year-old who reads this site, you're going to want to check out The Unofficial Guide to the DMV. It's a good launching point for almost any car-related query—while you can get the expected info on stuff like vehicle registration and driver's licenses, the site also features guides to buying a new car, ordering a vehicle history report when you're looking at used cars, and purchasing car insurance.
One of the most useful aspects of the site is the comprehensive Relocation Guide—let it know what state you are moving to or from to find out about re-registering your automobile, getting new plates, emissions standards, and more.
If only The Game read Gradspot...
The Unofficial Guide to the DMV [MeFi]