Understanding Paid Time Off
COMMENTS

(0)

FILED UNDER: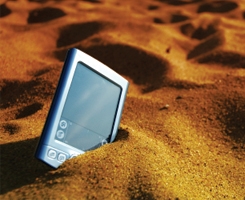 One of the perks of graduating from the land of internships and table-waiting to a full-time job is paid time off. Meaning your company will pay you when you're not there—in the form of vacation days, sick days, and personal days. Although not all U.S companies are required to give paid time off (for a depressing look at how we stack up to the rest of the world in average paid time off, check out this chart), most companies realize that people get sick, life happens outside of work, and sometimes, we just need a day away from the cubicle.
Time-off policies are set up differently depending on the company. Some have a set number of vacation, personal, and sick days that their employees are allowed to take each year. Other companies lump it all under the category of "Paid Time Off"—be it for the flu, a trip to the Bahamas, or moving.
Your time-off policies are usually outlined in your new hire orientation materials or in your employee handbook. If you have any questions about the number of days you have, don't hesitate to ask your office manager or HR contact. Unfortunately, it typically works by years of service, with employees accruing a certain number of hours of paid vacation time for each day or month worked—so don't expect to be buying that around-the-world ticket if you're a newb.
Some companies have policies where you can carry over your vacation days to the next year, or get paid out for them at the end of the year. Some, however, do not, and they employ the "use 'em or lose 'em" policy. So, by all means, take your vacation (and enjoy it)! Even if you can carry your days over, it's a smart (and healthy) idea to take some time off to recharge yourself throughout the year.
And if you're really pressed for things to do, it may be time to learn how to travel like a ninja.