The Ultimate Post-College Starter Kit
COMMENTS

(2)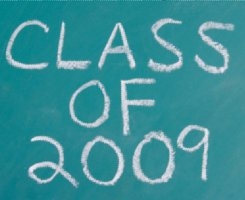 Class of 2009, your moment is now! For those still on campus, have fun and be sure to carry around some Claritin so you can say you have allergies when people accuse you of crying. Then, once you've had a second to catch your breath, decide which of the following groups you fall into and check out all the helpful resources we've compiled to help you transition seamlessly to life after college.
Congratulations!
The Dollar Is Strong, Give Me an Around-the-World Ticket and Some SPF-50!
Hitting the road or taking to the skies is a textbook post-graduation move. If you've got the money (you don't need much) and the time, why not? Unwind, see somewhere new, and have fun.
Recession? Not My Problem. I Need a Job NOW!
Right now, finding gainful employment is all about being persistence and looking for opportunities instead of "dream jobs." Use these tips and tricks, and don't rule out the possibility of starting out with an internship.
Get Me to Graduate School, I Need More Learning.
With the job market tightening up, the grad school rush is on. Do you really need another degree? And if so, is now the time to get it? Think through your options with these guides.
Chill Son, I Just Want to Hang Out.
You need some time to decompress and take stock. That's understandable—just make sure you give yourself a time limit. Next thing you know you're 32 and still asking mom if you can sleepover at your friend's new 6-bedroom house!
And If You Need to Know Everything...
Also, consider grabbing a copy of our book, Gradspot.com's Guide to Life After College! (We couldn't help but add this plug.)