The Ultimate Oktoberfest
COMMENTS

(1)

FILED UNDER: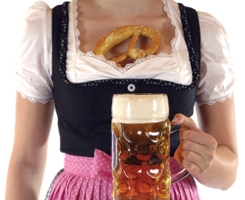 In a My Super Sweet Sixteen-worthy move, Germany's King Ludwig I decided to kick off his first year of marriage with a raucous royal horse race. Little did he know that his penchant for romance—because what girl wouldn't want her love celebrated with all of drunken, gambling 19th century Munich?—would turn into the world-wide festival now known as Oktoberfest.
Since those fateful royal nuptials in 1810, Oktoberfest has become potentially the best Fall holiday since Halloween, honored by everyone from frat boys to the over-65 readership of the Senior Spin newsletter. As I learned one fateful week this year, however, no two Oktoberfests are the same, and some are unquestionably better than others. Luckily, versions of the festival are now so widespread that, depending on where you live, you will have the opportunity to pick and choose which Oktoberfest to attend. When making that choice, here are some key factors to assess:
Beer
Obviously beer is a requirement at any good Oktoberfest. The key, however, is what kind, how much, and how cheap. While giant, raucous Oktoberfests can be fun, if you're living for lots of quality beer, err on the side of the Oktoberfests that bill themselves as more of a beer festival. Most Oktoberfests will have a list of the breweries they'll feature—the ones that have local breweries will often offer the best variety of beers, though certain festivals will also specialize in native German beers which can be fun too. A sponsorship from a respected brewery is a good sign you won't be served PBR with a German accent.
You might also want to check in advance to see what kind of deal you're getting. It's easy to get lulled into paying for "tastings" that are no more than 1-3oz. and tokens that can only be used in very specific ways. The best Oktoberfests have a system in which you can use tokens and/or regular money to buy either small tastes or actual pints, and if they are operating on the tasting system, will have a large enough variety of beer to make all of those 3oz. sips worth it.
Oompah Music
A festival's not worth its weight in kettle corn if it's not, well, festive. And what says "Oktoberfestive" like Oompah music? While old men in lederhosen and buxom women in the beer maiden shirts that conjure images of renaissance faires are certainly celebratory in and of themselves, Oompah music really makes or breaks an Oktoberfest atmosphere. Look for band names like "Sardines and Pickles," "Karl's Bavarian Brass," or "Eight Day Musical Cuckoo Clock" (all real oompah bands, fyi) to make sure you're getting the real thing, and let the jolly beer-drinking music take you away.
Food
It's impossible to make a day-long Oktoberfest into the marathon that it's meant to be without some hefty helpings of Bavarian food to soak up all of the beer. Although bratwurst are most people's most automatic association with Bavarian food—and lend themselves to irresistible, incessant "best and wurst" jokes—things like spatzel (thick egg noodles) and potato-based dishes are probably best for your alcoholic health, as they'll help you process the beer better. If you find yourself at an Oktoberfest that doesn't even have bratwurst or other types of ridiculous German meat, though, get out and get out fast…it clearly has no self-respect for its Oktoberfest status.