The Ultimate Mac and Cheese
COMMENTS

(1)

FILED UNDER: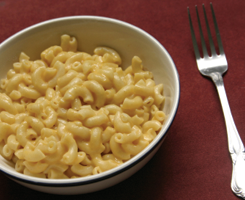 Macaroni and Cheese was a staple of my childhood. Not in a good way, though. Moreso in a lonely, "eating a box of Velveeta Shells and Cheese while the rest of the family is off gallivanting somewhere else" way. Yet, for some reason, the allure of one of America's greatest comfort foods never wained.
As a side, and as a full meal, mac and cheese can fit any season, and it brilliantly accompanies everything from a Sunday Roast to a plate of pulled pork. Like nachos, mac and cheese has many variations. There is the box type (a staple of college life), creamy mac and cheese, and many other kinds, But nothing beats a baked mac and cheese.
Now, many people like to top theirs with bread crumbs, but that is not my style. However, if it is yours, go ahead and add it to the recipe. I suggest placing the crumbs in a skillet of melted butter to season and get some crispiness going before putting it all in the oven. And, by the way, if you are one of those calorie counting herbs, this ain't for you!
To make my mac and cheese you'll need:
* 2 eggs
* 4 cups of milk
* 6 table spoons butter
* 6 table spoons flour
* 1 onion
* 16 oz. sharp cheddar
* 2 eggs
* 1 box elbow mac
* 3 table spoons paprika
* Salt
* Pepper
Preparation
Begin by doing basic prep work. Dice the onion and put water for the macaroni to boil. Preheat oven to 350. In a separate saucepan melt the butter and before its browned add the flour and whisk until smooth. Add milk, paprika, and onion, as well as salt and pepper to taste. Bring this mixture up to a steady simmer.
By this time, your water should be boiling, so toss in the macaroni and cook for 8 minutes. Drain pasta and put aside. Fold 2/3 of cheese into the milk and allow to melt in slowly. Take off heat, and temper the two eggs in, stirring to allow the egg to fully integrate with the mixture. Combine sauce with the mac. Pour mac and cheese into a deep baking dish. Cover with remaining cheese and bake for 35 minutes. Top should be brown and mac and cheese should be bubbling.
Follow these instructions and you will get a wonderfully flavorful mac and cheese balancing creaminess and the excellence of a clean slice. Enjoy as a full meal or side dish. Top with hot sauce if you're bold.