Two Weeks Until Tax Day
COMMENTS

(0)

FILED UNDER: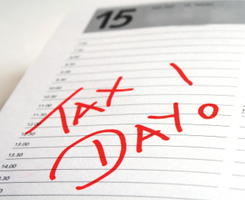 Just another friendly reminder that you need to file your taxes by April 15. As we mentioned before, if you haven't received all of your forms, you'll need to track them down (maybe they went to your parents' house) or get in touch with the relevant parties as soon as possible. In addition, here are two more nuggets of tax wisdom worth sharing.
The Volunteer Income Tax Assistance Program (Vita) An accountant tipped us off to this program that could be of great use to recent grads. Here's the vital info:
The VITA Program offers free tax help to low- to moderate-income (generally, $42,000 and below) people who cannot prepare their own tax returns. Certified volunteers sponsored by various organizations receive training to help prepare basic tax returns in communities across the country. VITA sites are generally located at community and neighborhood centers, libraries, schools, shopping malls, and other convenient locations. Most locations also offer free electronic filing. To locate the nearest VITA site, call 1-800-829-1040.

Filing Your 2008 Taxes With the Economic Stimulus (Recovery Rebate Credit). Get in on that bailout money! If you didn't received a payment from the economic stimulus last year and your situation now qualifies you for the credit, you should claim this amount when filing your 2008 taxes. [via Consumer Commentary]