Turkey Soup Provencal
COMMENTS

(1)

FILED UNDER: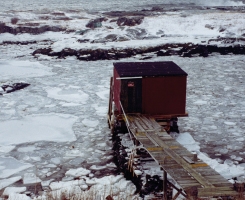 When I spent two years living in a rustic old New England fishing village, there were days when the wind off the bay chilled right to the bones. With dusk hitting at 4:30 and the streets barren, it took a great meal to soothe the soul and restore the spirits. Luckily my roommate, a great chef, knew just the trick. This hearty soup—packed with fresh greens, meat, and beans—and a few generous hunks of crusty bread always lifted the crew and shifted our lonely cabin into something close to a merry tavern.
What You'll Need
1 lb. ground turkey breast
1/2 teaspoon dried herbes de Provence, crushed
1 15-oz. can cannellini beans or other white beans, drained
1 14.5-oz. can chicken broth
1 14.5-oz. can diced tomatoes with garlic and onion, undrained
4 cups chopped fresh spinach
Preparation
Cook turkey in saucepan over medium-high heat until browned, stirring to break up the meat. Add herbes de Provence, beans, broth, and tomatoes to pan; bring to a boil. Reduce heat, and simmer 5 minutes. Stir in spinach; simmer 5 minutes. Serve to the crew and enjoy some belly laughs at the expense of an old friend.