Traveling Smart
COMMENTS

(0)

FILED UNDER: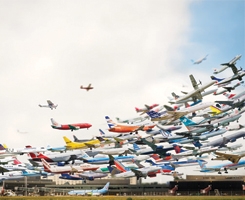 Between Thanksgiving, fall foliage getaways, and rivalry week in college football, November is often a busy travel month for recent grads. This means that every weekend, a vast array of logistical nightmares are playing out in the major transportation hubs of the country. One way to avoid such a nightmare is to not go to sleep, Nightmare on Elm Street-style: Flying at ridiculous hours is an easy way to get a sick jump on the day and avoid long lines.
Of course, catching red eyes and taking Greyhounds in the middle of the night can be harrowing and not a little bit depressing. So it's time to get smart about our travel plans. New York Magazine has put together a helpful hub of articles called "How to Escape Airport Hell" that's worth perusing before your next trip. Needless to say, it's a bit NYC-centric (they rate the best and worst flights to/from 8 major cities and offer the quickest driving and public transportation routes), but there are some tips and resources that all airport warriors can use:
Speeding through security: Nothing is worse than getting to the 'port at a reasonable hour and still missing your flight because of security delays. New York Magazine offers the slightly suspect advice of always getting into the left-hand line since "right-handed people (and Americans specifically) have a tendency to turn right when they enter a room." Then again, left-handed people are more likely to be terrorists, so that could slow things down. (Needless to say, I don't have evidence of that fact). A better bet, if you travel relatively frequently, might be to invest in a Clear Registered Travelers card for $100/year. At select airports, it will allow to be pre-screened and by-pass lines.
Finding cheap flights: The site of choice for savvy travelers is Kayak.com, which culls results from Expedia, Orbitz, and all the usual suspects. Soothsayers can keep their eyes on Farecast.com, which does some heavy number crunching to predict when fares will rise and fall.
Planning ahead: Those who are really on their game utilize FlightStats.com, which "combines real-time departure and arrival information, wait times at security checkpoints, and up-to-the-minute weather reports."
Best seats: When I realized the ways of requesting the "bulkhead" seat for maximum legroom, it dawned on me that being jammed into the middle seat of the last row is something that can legitimately be avoided. SeatGuru.com has annotated diagrams of every major aircraft so you can take the science of seat-selection to whole new levels.
Bon voyage, m'nerds.