Travel Like a Ninja: Going International in Five Days or Less
COMMENTS

(1)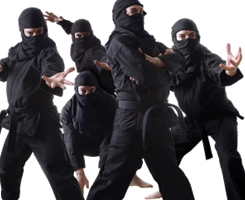 Coming to terms with the working world's painfully small amount of vacation time has been an extremely difficult task. After being cruelly conditioned to an academic life of built-in vacations, a paltry 15 days of time off is almost unfathomable. While those two weeks of vacation time do the trick for a four-day weekend here or there, it leaves very little room for actual travel, especially international trips. And this is when traveling like a ninja becomes an appealing option.
Traveling like a ninja means taking a short international trip that is both borderline frantic and full of finesse. A term coined by my roommate and his friend after they took a five day trip that included partying in three major cities, setting foot in five countries, and—if you count taxi rides into Asia minor—touching down in three continents, traveling like a ninja is one way to fit your burning desire for international travel into corporate America's schedule. Here are some methods to the madness:
Keep Your Ear to the 'Net
"Paid" time off or not, international travel is expensive and it can be hard to justify dropping so much rent/food/drinking money on airfare for a short trip. Here's where this year's incredible airline deals come in. Travel Zoo sends a weekly newsletter with the week's best travel deals, and almost always lists airlines that are having major sales on international travel. You should also check a wide variety of international airlines for specials and deals; many flights to Europe are now cheaper (and shorter) than flights within the US. For example, Swiss International Airlines is currently selling roundtrip flights to Europe from New York, Boston, Miami, Chicago, and LA starting at $393. Keep an eye peeled for deals and move swiftly. (Note: make sure the price include tax, or else it's probably not really a deal.)
Ninja Logistics
While booking rooms in advance goes against many hardcore travelers' essential beliefs, traveling like a ninja leaves little time to get the feel of a city and chat up the locals to find the best, most authentic, most "off the beaten path" place to crash at night. Do an Internet search (try Hotels.com and Priceline) or grab a travel guide like Let's Go and reserve a place to stay. Hostels are ideal, since real travel ninjas spend way more time out exploring than sleeping.
Expectations
There is no possible way to make a ninja trip a comprehensive sightseeing trip; expecting otherwise will take the fun out of ninja travel and leave you feeling overextended and disappointed. Some people choose to do ninja travel in a city they've already visited—you can go back to a place you love without feeling the personal pressure to see all the sites. Others decide to ninja travel to a place where there is one main draw, whether it is the beach, one major cultural attraction, or nightlife. However you choose to strategize, make sure you have a reasonable sense of what you will be able to get out of the trip, and then run with it.
After all, ninjas are pretty awesome, but even they can't do it all.