Tao of Teaching: Happy New Year!
COMMENTS

(0)

FILED UNDER: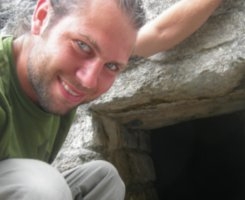 Happy New Year Taoists!
I am returned safe and sound from my travels in the land of the Mayas! During the holidays I packed up my bag and set off for a month of solo exploration around Mexico's Yucatan Peninsula.
My adventure was extensive, exciting, painful, enlightening, relaxing, awesome, wonderful, exhausting, wet, invigorating, depressing, refreshing, peaceful, hectic, smelly, uncomfortable, hungry, fun, itchy, exhilarating, sandy, eloquent, gymnastic, drastic, and FANTASTIC!
I was a traveller between two worlds, a foreigner, yes, but also a resident, which sometimes left me lonely and other times won me many friends. One thing is for sure and that is that speaking the language makes a world of difference and sets you apart from the other tourists.
I certainly learned many things about Mayan culture - past and present - and I achieved a life long dream by exploring the ancient cities. Not only that but I swam in the Caribbean, another dream since the days of my childhood spent playing pirates. It's interesting how these things all converge.
I have many tales and only one regret from my travels. The tales are for another day and the regret? I didn't once sleep in a hammock!
I returned home to San Luis Potosi in time for Christmas, which I spent in the company of my teacher and good friend Silvia and her family. Here in Mexico the family gathers for the Christmas meal at midnight on Christmas Eve and passes the rest of the night opening presents!
And here we are in 2009, last year saw the biggest changes and grandest adventures of my life thus far. I have been in Mexico for 9 months and I feel like I am just getting started, ready to be "born" so to speak in the New Year.
I do have a few specific resolutions:
- I've learned to speak Spanish, now the challenge is to understand it!
- Renew my "contract" with the school come March.
- Fix the washing machine. Hand washing might be good for the soul but it is raaather tedious!
- Buy a parrot. Or a motorbike.
- Score more goals than Gary Linekar, Guy Wiseman, Paul "Score Goals" Scholes, and both Ronaldos (combined) to win "the worst league in San Luis Potosi".
- Release another album…or maybe just sell some copies of the one we have!
- Might get a haircut.
Basically the soul goal is to live the dream and keep striving for perfection. The motto is as ever (but never before has it been in Spanish): "Lo mismo pero mas mejor!" Which means "the same but more better!", yes, my grammar limitations know no…er, limitations! Jajaja
More of those limitations to come with the Tao of Teaching in the New Year!
Until next time…
PEACE