Take Advantage of the Domino Effect of Networking
COMMENTS

(7)

FILED UNDER: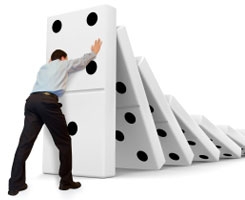 This special discussion of networking's "domino effect" comes to us from Page Bostic, a member of Women in Technology.
Networking isn't about the hasty exchange of business cards that characterizes some networking events. Instead, building relationships with those you lead is the first commandment of networking (and of leadership). A case in point, is Jenny Murrill, a cost and risk analyst for Northrop Grumman's Information Systems sector, who built her career around the opportunities created by networking. Murrill says, "It's easy to build a network, but the key is to maintain it. This requires significant effort, but can pay significant dividends."
The relationships Murrill built over the years have created one opportunity after another. "Success in your career can be a domino effect," she says. In 2007, Jenny was nominated for a business award for Rising Stars from the professional group Women in Technology, which was submitted by a colleague with whom she'd worked years earlier. The nomination alone touched off numerous new opportunities and after winning, Jenny received other industry awards, speaking engagements, and executive mentor invitations to senior executive leadership meetings all based on one award, which was the product of great networking earlier in her career. The domino effect has "spring-boarded" her to where she is today.
To build the kind of relationships that will create this kind of domino effect, Murrill advises those new in their career to "take the time to relate to people personally." Women often think that they have to shed interpersonal traits to climb the professional ladder, but in fact, it's often the opposite. Even in a male-dominated world like engineering, Jenny Murrill found that empowering her employees, serving as a mentor and bringing excitement and passion into play, helped her create and maintain a strong team which has become her powerful business network.
Jenny advises that whether you are starting your career or just a new position, "be positive and show initiative"—in other words, go beyond what's expected. "Give 110 percent in everything that you do," she says, "but look at the big picture to determine how perfect you need to be and balance delivering a ninety-nine-percent solution versus a ninety-percent solution."
A last tip for business and networking success is to create boundaries so that you can achieve a balance between work and life. Jenny, an avid runner, reminds young professionals that there is a lot to learn from being involved in extracurricular activities, like sports, volunteering and professional groups, too. She believes her running during high school taught her "grit and determination." Being on the forensics team gave her the foundation for her technical speaking career in engineering; it prepared her for keynote speeches, panel discussions, college recruiting programs, and her regular briefings with high-ranking government officials.
What does Murrill say to women in technology who are self-conscious about being a woman in a male-dominated field? "Show that you have confidence and competence and they will see through your age and gender," she says. "Focus on your job. Put your head down and do a good job and you will build respect as a result."
---
Jenny's story is one of many included in a new book from Women in Technology, called No One Path: Perspectives on Leadership from a Decade of Women in Technology Award Winners, which profiles the inspiring journeys of 48 women in the field of technology. If you are a new grad and want to learn more about how leaders get to the top, don't be afraid to ask for informational interviews. All great leaders have a story and you'd be surprised how many of them are willing to share it with you as you start out.