Surviving the Apartment Rush
COMMENTS

(0)

FILED UNDER: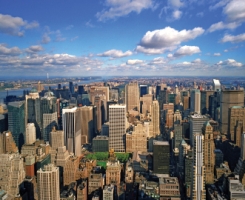 Amongst the 30-odd percent of this year's grads who don't move back home with their parents, the housing rush is about to get on and popping. Because most jobs start in late spring or early fall, these are generally very competitive times to find apartments. (But remember that a lot of people are also moving out of their "first pad" around this time as well, thus opening the door for the next wave of transients.)
The New York Times recently summed up the scene in NYC, but the article offers some important advice that's worth noting no matter where you move.
Living with a roommate may be the easiest and most practical way to cut your costs—the dream of a picture-perfect studio in the coolest part of town is not always possible on a first year salary, but roommates can keep you close to the action without breaking the bank.
Having a guarantor lined up might be crucial when it comes time to seal the deal. A guarantor is someone (usually a parent) who agrees to cover the rent if you default. In ultra-competitive cities like NYC, you'll need one if your salary is not 40x the monthly rent.
Negotiation is not out of the question, so don't be afraid to flex some buyer's power in places where the market is a little softer.
Having all the necessary documentation lined up before you start hunting can be crucial—check out this quick checklist of things you'll need.
Ideally, you should start hunting four to six weeks before your proposed move-in date (apartments usually won't be open to view before then), and expect to look at a lot of places before making a decision. If you can set some time aside for apartment hunting before you start your job, it will make your life a lot easier.