Super Obama!
COMMENTS

(0)

FILED UNDER: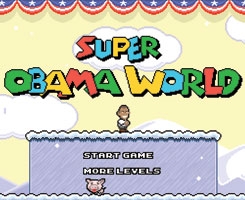 They've elevated him to an almost mythical status. Some call him, "The One." Others just call him the President Elect. But just this week, an honor was bestowed upon him that few can only dream of...
Mario, meet Barack. Barack meet Mario. Yes, that Mario. Super Mario. And yes, that Barack. Or should I say, Super Obama!
Looking to kill some time? Then check out Super Obama World. Travel to Alaska. Jump on some lipstick covered pigs. And traverse the bridge to no-where...all, while restoring America's splendor.