Summer Travel Tips
COMMENTS

(0)

FILED UNDER: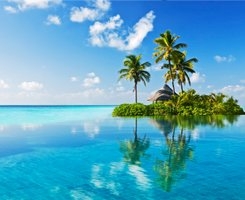 When the economy and job market go down the tubes, there are two camps on traveling. One says you'd be absolutely crazy to splurge on hotels and air travel—grab your savings and bunker down in the house until the tide turns. But the other is a little more opportunistic: everything is on sale in a recession, the dollar is strong, and it's not like that job is coming anytime soon anyway. So why not go somewhere you've always wanted to go?
I'm firmly in the second camp. If you just graduated or you're getting discouraged with an interminable job hunt, this summer may just be an ideal time to take a trip. Remember: it doesn't have to cost you an arm and a leg, and there are even ways to get paid while you travel. Want to learn how to do it? Check out these great resources on how to travel effectively on a budget:
Travel full-time for less than $14,000 per year Nora Dunn, a professional world traveler, has some great tips on saving 80% on airfare, using money wisely on the road, volunteering, and much more. [via I Will Teach You to Be Rich]
40 Most Useful Travel Websites That Can Save You a Fortune A comprehensive list of tools and travel websites/guides for the budget-conscious. [via Wisebread]
Research: The Traveler's Best Friend In a recent post, The New York Times' Frugal Traveler pulled the curtain back on some of his pre-trip research rituals. It's packed with useful websites and tips. [via NYT]
Gradspot.com's Guide to Life After College Our book is free to download! Check out pages 29-34 for a list of potential trips—like the "Superpowers of Tomorrow Trip" and the "From Russia With Love Trip"—that'll get the wheels turning.
Safe travels!