Spinach-Pie Quesadillas
COMMENTS

(0)

FILED UNDER: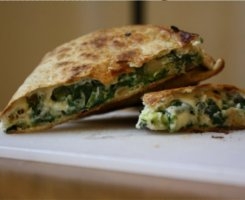 Cara the Quarter-Life Cook joins the "Recipe of the Week" team from Big Girls, Small Kitchen, a food and recipe guide for twenty-something cooks looking for user-friendly, affordable ways to navigate their kitchens.
In my New York, the egg and cheese might be the quintessential sandwich, dethroning traditional staples like pastrami on rye and lox on a bagel. It's been reported that one of the best was actually made in our high school cafeteria (Liz's cherished "Fatty with Cheese," if that gives you any idea).
With some farmers' market spinach wilting in my fridge (sometimes I wonder if my life will ever be conditioned by anything other than the vegetables I must save from rotting into waste), I decided to take the fusion element up a notch in classic New York form. Not just Frenchified (the wrap reminds me of the buckwheat crepes my host mother in Paris used to reheat beneath an egg), or Mexican-like (quesadilla), this egg and cheese also resembles a spinach pie (Greek).
The result: my bastardized egg and cheese. The egg becomes more of an ingredient in the sandwich filling than the main event, but it is just as comforting as Cafeteria Liz's version (if more healthy) for breakfast, lunch, or dinner.
What You Need:
* 1 teaspoon olive oil
* 1/4 small onion, finely diced
* 2 scallions, sliced (white and green parts)
* 1 clove garlic, minced
* 1/4 teaspoon salt
* Ground pepper
* Pinch each of thyme, oregano, and cayenne
* 1 cup fresh spinach
* 1 egg white
* 1 tablespoon strained yogurt
* 1-2 tablespoons feta cheese
* 1 small wrap
How to Cook:
In a small pan, heat the oil. Add the onion and scallions and cook about 3-4 minutes, or until soft. Stir in the garlic, cooking a minute or two more until soft. Sprinkle with salt, pepper, and the spices. Mix in the spinach and cook until wilted. Remove to a bowl and cool slightly. Stir in the egg white, yogurt, and half of the feta.
Wipe out the pan, then brush it with a bit more oil or cooking spray. Over low heat, put the wrap in the pan and sprinkle the rest of the feta over one side of the wrap and see if you can't get it to melt slightly. Pour the egg-spinach mixture over the same half of the wrap, fold the other half over and cook on one side until the egg begins to firm up, 3-4 minutes. Flip and cook on the other side for 2-3 minutes, then cut into wedges and serve.
For the story behind the recipe, visit Big Girls Small Kitchen