Shhhh.... The Economy Is Sleeping
COMMENTS

(0)

FILED UNDER: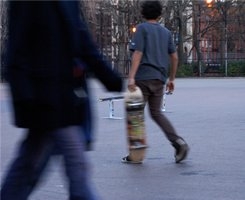 After seven months in Paris, I am finally back in New York for a brief visit. Despite my tendency to glorify Paris--for good reason--New York is pretty glorious as well.
I knew I was back when I stepped off the plane and instantly felt my blood-pressure skyrocket. I am too excited. I cannot sleep. I've been walking REALLY fast. I've been talking a lot (English is so EASY!). I have probably eaten more high-fructose corn syrup in the past week than I have in the past seven months in France. It tastes good but feels disgusting; and to me, the good-disgusting balance is what America is all about.
I now feel entitled to make constant comparisons between New York and Paris and to regale my friends with such profound observations as:
"The sidewalks here are so cracked..."
"The New York metro---oh, sorry I mean the subway-- system is FILTHY..."
"The clothes here are UGLY... where are all the black shapeless frocks?"
"Why is the food so big?"
"Why are there so many mysterious ingredients in a Saltine?"
"Why are the waiters here so RESPONSIVE and FRIENDLY?"
When the self-righteousness subsides, I realize that it's not just New York and Paris that are different. New York itself has changed. When I left in June, people still had jobs. Restaurants were annoyingly crowded. $45 million for an apartment seemed like a pretty good deal.
Now, everything feels quiet and, dare I say, humble. I walked down Madison Avenue yesterday, and, to my great dismay, there were barely any ladies lunching. At noon on Saturday, both Sant Ambroeus and Extra Virgin were looking unglamorously empty... apparently even the see-and-be-seen brunch crowd is at home eating Cheerios. Nothing wrong with that. I love Cheerios.
I guess we didn't really need those $6.50 cappuccinos after all? Shocking. They were delicious, though, back when we were all rolling in money that wasn't actually there.
Tory Hoen's blog, A Moveable Beast, appears regularly on Gradspot.