Secrets to Organizing Your Closet
COMMENTS

(0)

FILED UNDER: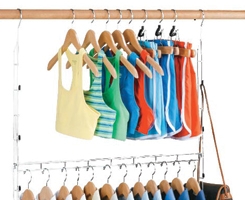 In an apartment roughly the size of a closet, maximizing your actual closet space is a must. Since you don't have time to waste, it shouldn't take you five minutes to find a favorite shirt. You also don't have that much room, so turning your closet into a storage compartment that can rival the containment unit from Ghostbusters will free up more space in your apartment to set up a TV or vanity. Make the most of your closet by paring it down, using the right products, and developing an organizational philosophy.
Start by cleaning the dang thing out, about twice a year. Professional organizer Beth Levin, the Closet Queen, suggests putting Post-It notes on each item in your closet and removing them from what you wear. Whatever still has a Post-It on it at the end of the season needs to go—whether through donation, a swap meet with friends, eBay, Craigslist, or consignment at places like Buffalo Exchange or Plato's Closet. You'll even make a buck or two.
Carefully chosen products can also help maintain your sanity. Try Slide N Stax shelf organizers (or an alternative) to keep stacks of clothes from becoming piles. Bumps B Gone hangers will prevent stretched shoulders. Keep excess stuff under your bed with specialized storage containers if they don't fit, buy bed risers first.
Shoes can be kept in over-the-door shoe shelves, vertical closet compartments, or stacked plastic boxes with Polaroids of the pair on front.
Levin's biggest tip is to use every inch of your closet—put rarely-used items up top; hang belts, ties, and purses vertically from pegs on the wall; and stack sweaters in canvas compartments. Put items from the current season up front on hangers, then organize by article of clothing, and then by color.
If all else fails, try doubling your space. If you're still cramped after that, call in a professional.