Roundup: Beer, Music, and Gaming
COMMENTS

(0)

FILED UNDER: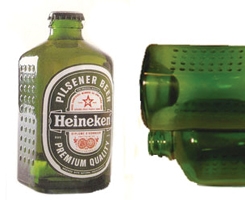 Beer: The Building Block of Life
I've always been pretty intrigued by beer and soda bottle design. Often, I'll order a Red Stripe just because the container feels like a small grenade in my hand, or I'll choose a Virgin Cola over a Coke if I can get one of those voluptuous bottles that were meant to approximate the contours of Pamela Anderson's body. (Did I make that up? I'm not sure…) But nothing matches these stackable Heineken bottles from 1963 (via Apartment Therapy), which double as building blocks for a small house. Alfred Heineken conceived of the WOBO (world bottle) when he was in the Caribbean and noticed beaches strewn with beer bottles but a dearth of adequate housing. These days, that type of eco-design could be godsend for recent grads. You could basically get by without an apartment…in the summer…for a night or two.
Anger Management
Everyone's banging on about Halo 3 these days, but the only videogame I've been playing recently is the free RPG "Viva Caligula." In many ways, I do not understand the game at all, except that the basic premise is to single-handedly conduct a massive genocide in ancient Rome. (This wasn't too hard to figure out since the instructions are quite simply, "Kill everyone to save Rome!" Sounds a bit archaic…like Rome, I suppose.) What is really revolutionary about the game is that you can literally yell at Caligula to increase his power and send him into a homicidal rage. Yesterday I was at my computer screaming, "MUUURRDDAAA! MUUURDDAAA!" in the most insane voice ever and I thought, "Get ahold of yourself, Gritz. You're losing it!" But afterwards I felt a lot better, so that's all that matters.
CMJ 2007
The College Music Journal, more commonly known as CMJ, hosts its annual Music Marathon and Film Festival in New York from today until October 20. The event is always a good place to check bands before they get their break, thus allowing you to look down upon everyone else who likes them in years to come. There's also a solid lineup of established acts, from trendster du jour MIA to the winter-loving Decemberists. For those of you who aren't in New York or can't make any of the shows, NPR.org's got a nice live concert stream that's worth checking out if you like hearing new music but also telling your people that you "listen to lots of National Public Radio." No Crocs required for this one!