Rice Noodle Salad
COMMENTS

(0)

FILED UNDER: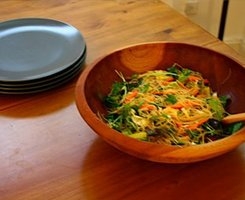 Cara the Quarter-Life Cook joins the "Recipe of the Week" team from Big Girls, Small Kitchen, a food and recipe guide for twenty-something cooks looking for user-friendly, affordable ways to navigate their kitchens.
One of the excellent perks of my neighborhood (Park Slope, in Brooklyn) is the fact that it's really easy to park on the street. This numbers among the reasons it's easy to convince Jill, my older sister who lives in Manhattan and is now the proud city driver of a car, to come for dinner over the weekend. What clinched her invitation to dinner on this particular night was that she brought along a discarded chair of hers, making me the proud owner of four whole chairs to set around my table. Two of them even match!
When I wrote to my mom asking her for the exact proportions of the very simple dressing we always like to put on our soba noodles (from the back of the soba noodle box, I'll admit), she emailed back with the right proportions of rice wine vinegar, soy sauce, sugar, and sesame oil—and, more importantly, to say that noodle salad was among Jill's favorite dinners. Somehow, I don't think I knew this. Anyway, I substituted rice vermicelli noodles for the soba, since they're what I had, but they absorbed the sauce and melded with the veggies nicely. This dish travels really well, and it even benefits from extra time for the flavors and textures to combine.
What You Need:
* 6 ounces rice vermicelli noodles
* 1 teaspoon vegetable oil
* 3 tablespoons soy sauce
* 1 tablespoon sugar
* 1 tablespoon roasted sesame oil
* 2 tablespoons rice wine vinegar
* 1 carrot, cut into matchsticks
* 1 cucumber, cut into matchsticks
* 2 cups mixed greens
* 2-3 scallions, chopped
* about 12 cashews, coarsely chopped
How to Cook
Cook the rice noodles according to package directions—usually 2-3 minutes in boiling water. Rinse them in cool water and drain. On a cutting board, cut them into 4-5" lengths. Toss them with 1 teaspoon of vegetable oil.
In a small bowl, combine the soy sauce, sugar, sesame oil, and rice wine vinegar. Set aside.
In a salad bowl, mix together the vegetables, noodles, and cashews, reserving a few scallions and cashews for garnish. Toss well with the dressing and sprinkle with the garnish.