The Resurgence of Haggling
COMMENTS

(0)

FILED UNDER: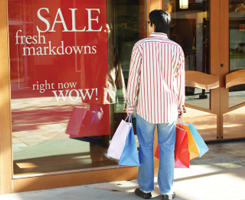 A lot of people have probably haggled over prices on bootleg soccer jerseys at a Moroccan street market or tee shirts of two camels having sex outside some Turkish ruins, but what about negotiating on a 50" flat screen at Best Buy? Well, just because it's "America" doesn't mean everything is set in stone. According to a recent article in The New York Times, haggling is making a comeback at big-box stores and mom-and-pops alike, thanks in part to Web-savvy consumers and a failing economy.
Of course, a lot of the big stores like Best Buy, Circuit City, and Home Depot have traditionally offered "low-price" guarantees by saying that they'd match anyone else's prices if you could prove they were being undersold. But those guarantees didn't really allow for bargaining, just a little peace of mind that you were getting the best price available. Now, with the explosion of eBay and other Web retailers, customers are walking in equipped with a lot of knowledge and a lot of alternatives. Combine this development with the fact that many of the "megastores" are fighting for their lives, and the stage is set for some good old-fashioned stare downs.
Because this phenomenon is sort of hush-hush and stores don't really have a standard policy on price-negotiation, the potential is great but your smoothness factor also has to be high. So step up our haggling game and get it cracking!
Via Consumerist
Bonus: Alternatively, you could take the Snoop approach to buying things (NSFW, from The Wire):