Researching Graduate School Options
COMMENTS

(0)

FILED UNDER: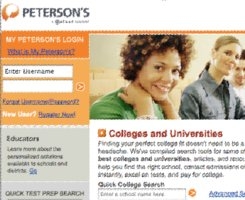 We've discussed grad school options and Tweeted about the record numbers of business schools applications this year. But if you're setting your sights on applying next fall, it's worth spending some time on Peterson's.
Be warned: if you fill out any forms, you may be spammed by schools you've never even heard of, because connecting "individuals with educational institutions and organizations" probably also means selling them your info. But don't let that stop you from utilizing this great resource. In addition to the survival guides here on Gradspot, it's a great way to think through your options, see what's out there, and figure out how to apply.
To get started, check out the Advice Center. Some of it is focused on getting into college as a undergrad, but there's tons of graduate school information as well. Another great resource is the section on paying for school, which features a database of scholarships, grants, and prizes, as well as an Awards Analyzer that allows you to compare financial aid packages.
Anyway, I'm starting to sound like an infomercial so I'll leave it at that. Point being, if you're thinking about grad school, Peterson's is definitely a great place to get the ball rolling.