The Refrigerator Lock
COMMENTS

(0)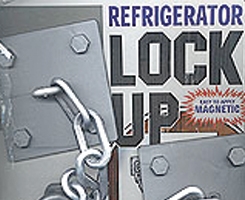 Thieves suck. They suck even more when they're your roommate. And they suck the most when they repeatedly steal your food from the fridge (even if the food isn't expensive, it's the principle of it all). Well – fret no longer.
Enter the fridge lock.
Granted, it's just an intimidating magnet, but I have faith that you can keep the ruse up just long enough to eat your own food.
[Via The Uber Review]