Recipe of the Week: Pasta Carbonara
COMMENTS

(4)

FILED UNDER: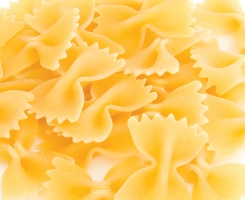 It's Wednesday night, it's teeming with rain outside, and the temperature is plummeting. Your new lady, or man, is set to arrive in 20 minutes. You want to impress, but not overwhelm. You also want to save some cash. This recipe is literally the answer to all of these concerns
. In a few easy steps it yields a satisfying, creamy pasta dish. You and your chosen partner will be sustained, as well as a few of your lecherous roommates.
You will need:
Cooking instructions:
1) Bring water for pasta to boil. While the water is coming up, chop bacon and fry in a skillet until crisp. Drain and then set aside.
2) When water has reached a rolling boil, cook pasta until tender (about 8 minutes). As the pasta is cooking, combine egg and cream in a bowl. Season with salt and pepper.
3) Drain pasta and return to pot. Add bacon and cream/egg mixture. The residual heat of the pasta will cook the egg and warm the sauce. Stir until all pasta is covered.
4) Sprinkle on Parmesan cheese and serve.
This base can be spruced up by adding spinach to the mixture and allowing it to wilt into the pasta after cooking. Alternatively, just serve a simple side salad. A hunk of bread will also do the trick.