Recipe of the Week: Pants' Ragu
COMMENTS

(0)

FILED UNDER: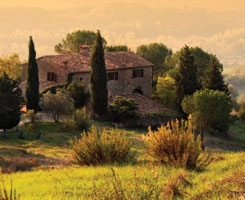 Everyone wishes they had an aunt named Margherita and an uncle named Mario, but very few actually do. Some of us, failing actual Italian lineage, grow up eating horrible jarred sauces from 'Prego" and "Paul Newman"; As we grow up and find occasion to experience something that better approximates authentic Italian food, we crave the aroma of garlic and sweet smell of simmering tomatoes at least once in a while.
The good thing about Italian food is that it's not wildly difficult to reproduce. Bad thing is, you will never make anything that even approaches what an old Sicilian woman or an Uncle Mario can make. Why? They have special powers called ancestry. You just have recipes.
This sauce is a take on the Bolognese. It is not particularly authentic, but it will suffice for starters. It is great for when you have a free weekend and want to get that "home cooking smell" wafting through the apartment. Serve the sauce with your favorite pasta, or some grilled polenta. The meats can be mixed and matched—lamb and sausage are also acceptable. I use veal and pork because that is what I like.
You need:
Two onions
Half a thing of celery
Three carrots
4 cloves of garlic
1 lb. minced veal
1 lb. minced pork
2 large cans crushed tomatoes.
Olive oil
Salt and pepper
Chili flakes
1/4 cup milk.
Begin by mincing the vegetables and garlic. Heat a good amount of oil in a large saucepan and add mixed vegetables. Cook on low for 30 minutes. Add meat. Cook on low for one hour. Add crushed tomatoes; cook two hours. Season to taste with salt and pepper and chili flakes. Cook two more hours. Add milk and finish simmering for 40 minutes to one hour. The milk will make the meat extra soft and delicious. Consume with pasta or polenta, then freeze leftovers for future use.